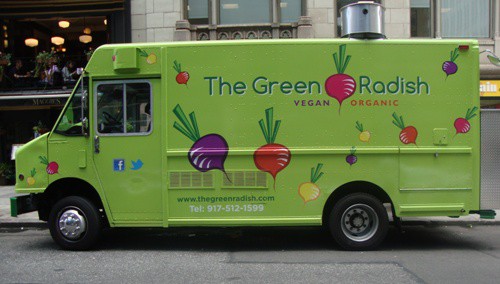 With the weather so cold and wet lately, we've been staying close to the office. Luckily, Broadway between 55-56 St has become a regular food truck hangout. One of the relatively newer food trucks to park here is The Green Radish, who have only been on the street for a couple of months.
Even though The Green Radish is vegan and organic, we won't hold that against them 🙂 So far, everything we've tried from there has been good. Not cheap, but good.
The Daily Special at the Green Radish was a Stir-Fried Veggie & Tempeh Wrap with Soy-Sesame Dressing for $10. They called it a wrap, but it looked like a burrito to us. Who cares what they call it, as long as it's tasty!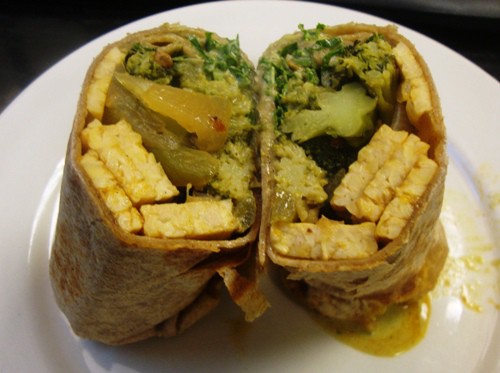 We don't know a lot about vegetarian or vegan ingredients, but in our experience, tofu, seitan or tempeh are used to provide protein, which the human body needs to be healthy.
While tofu takes on the flavor of what it's cooked with, seitan is the closest to meat in texture, and tempeh comes in blocks like tofu, but with an earthier flavor.
The stir-fried veggie wrap had broccoli, kale and quinoa. Broccoli is always enjoyable for us, and kale varied the green flavor somewhat, so it didn't only taste like broccoli.
There wasn't a lot of quinoa, but what was there varied the texture by adding some grain.
The soy-sesame dressing was creamy, and sesame is one of our favorite flavors. Unfortunately, they put a little too much on, turning this into a messy, but delicious, meal.
We used to be close-minded and thought of vegan food as "rabbit food" – you know, some lettuce, carrots, spinach, etc. But this lunch was as heavy and filling as any meat burrito…and it was just as spicy!
The Green Radish Truck can be found on twitter here or on our Mobile Munchies twitter feed. You can check out their website here.
Don't let the vegan/organic labels put you off. Lunch at The Green Radish was as satisfying as what we've had at many other food trucks.
And they have cookies too!