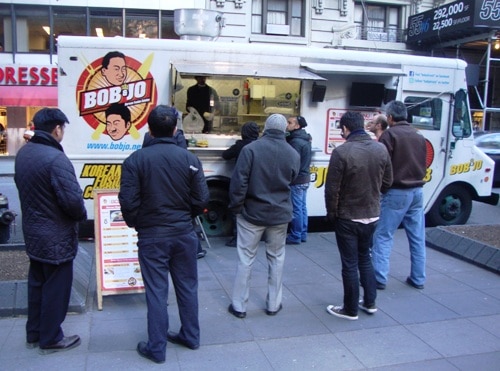 After being in Miami last week, we needed something to warm our insides for lunch yesterday. New York can be a cold place, but we still love it!
One of the best ways to warm your insides is with a hot noodle soup. Luckily, Bob & Jo came out with a new winter menu around Thanksgiving, and it includes ramen for $8 or a ramen & mandoo (dumpling) combo.
We decided to get the seafood ramen & mandoo combo for $10.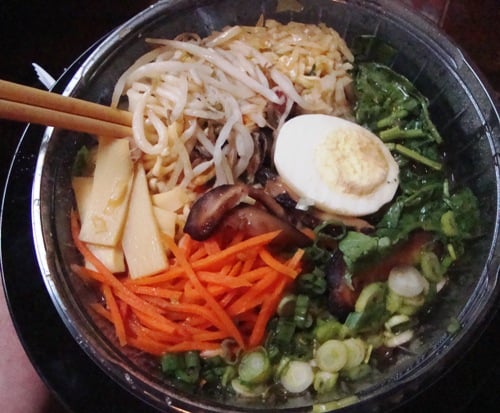 Starting with the dumplings, there were 5 in the container. They were small, only about 2 bites each, but 10 bites of dumpling for $2 is not a bad deal.
The mandoo were laid on a bed of lettuce, and were nearly covered in scallions. According to the menu, they were vegetarian.
The dumpling skin was made with wheat flour. Inside was dried radish, cabbage, green onion, leeks, ginger, garlic and bean oil, although we would not have been able to tell without the description on the menu.
The dumplings were ok, but the sauce and scallions picked up the dish nicely. The sauce was made with soy sauce, lemon, lime, tsuyu, vinegar, scallion and pepper.
The ramen was chock full-o-stuff, with noodles, greens, carrots, bamboo shoots and scallions, as well as our favorite part, half a hard-boiled egg. All of the ingredients were fresh.
One thing that was a little disappointing was the amount of seafood in the ramen. There were plenty of small mussels, and a little calamari, but that was it.
Everything sat in a broth that was hot and a bit spicy.  Tasty, and perfect for a cold winter day.
Noodles are an important part of ramen, but with all the other stuff in this bowl, they took on a little less importance. The noodles were ok. They were neither great nor bad, but somewhere in the middle.
You can find Bob & Jo on twitter here or on our Mobile Munchies twitter feed.