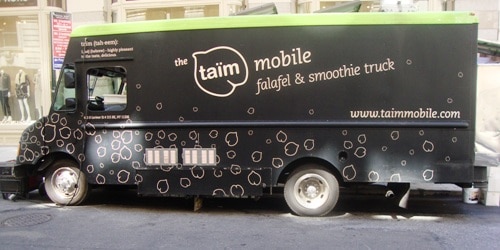 Anybody who has eaten lunch from The Taïm Mobile knows just how good their falafel is – good enough to be a  Vendy Award Finalist for Rookie of the Year in 2011.
One of our favorite specials at The Taïm Mobile is the sabich (suh-beech) sandwich for $6.75…but there's not a speck of falafel in the sandwich.
Taïm is a Hebrew word that means "highly pleasant to the taste", and it certainly applies to the sabich, which you can also get as a platter , which comes with 2 sides, for $11.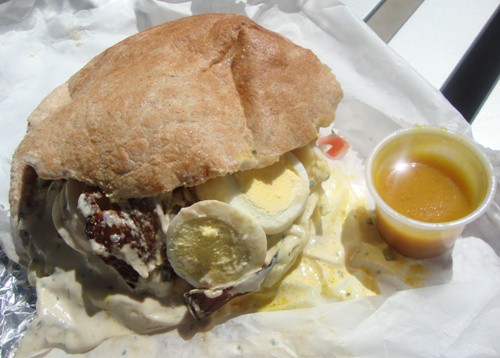 What we love about the sabich sandwich is the inclusion of a sliced, hard-boiled egg in the sandwich. We love hard-boiled eggs, but there's so much more.
Underneath the egg was fried (but not breaded) eggplant, Israeli salad (tomato, cucumber & parsley), pickled cabbage, hummus, tahini and amba sauce.
I'm not usually a big eggplant fan, but this sandwich is converting me. The eggplant was soft and supple, even the rind, and the amba sauce added a slightly fruity taste. Amba sauce is a pickled mango fenugreek chutney, but it's the consistency of a thick sauce.
The sabich sandwich can be messy to eat, but it was awesome!  The bites were creamy and a little tangy, all enveloped by a warm, fluffy pita bread.  Yum! Add this to my top 5 sandwich list, pronto!
The Taïm Mobile hits various neighborhoods around town, so check their twitter here or our Mobile Munchies twitter feed.
Taïm actually started with a small storefront in the West Village before opening the food truck. That one you don't have to find on Twitter.