We recently received a copy of the Eat St. Recipe Book, which we will be posting a review of tomorrow. The book features recipes from 126 of the food trucks featured on the Eat St. program over the past 4 seasons, and we have 1 copy to give away to a lucky NYSF reader too!
As you would expect, a number of the  recipes in the book are from NYC food trucks. What we didn't expect was to find a recipe for a dish from a NYC truck that we haven't tried yet. But there it was – pork chops and lemon-roasted potatoes from Uncle Gussy's – right on page 233.
Luckily, Uncle Gussy's featured it as their Daily Special recently for $10. Since it was a cold, windy day, so we also got a cup of Mom's avgolemono soup.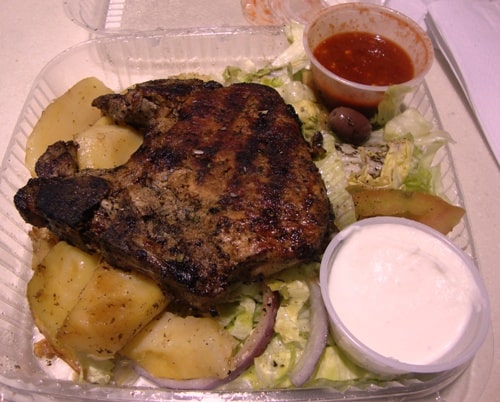 We had to get the chill out of our bones, so we started with the soup.
We're not usually big fans of lemon-flavored food, generally preferring sweet over sour. The avgolemono soup we've had in the past has been quite tart and lemony, but we've heard good things about the avgolemono soup at Uncle Gussy's.
The word we heard was right. The soup was lemony, but it didn't make your mouth pucker. There was rice and shredded chicken in the soup, and the broth was lemony and smooth, with a little thyme added to the soup. Delicious!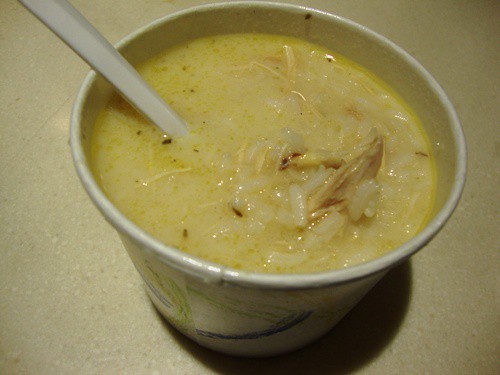 Opening the large container, this was one big pork chop. It was large around, and thick too. You could see there were plenty of herbs rubbed on the chop before it was grilled.
The only problem we had was there was no knife in the bag. There was a fork and spoon, but did you ever try to eat a grilled pork chop with a fork and spoon? Not gonna happen. Luckily, we brought our lunch to the Citicorp Center atrium, and got a knife from one of the food shops there.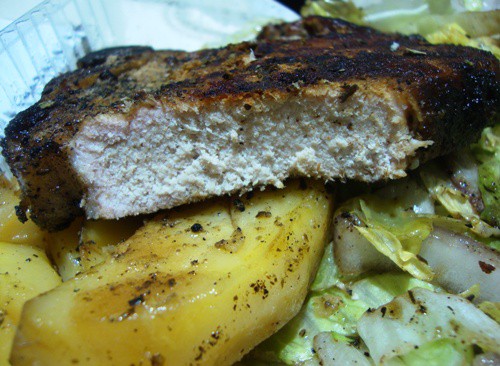 We certainly wouldn't call this street food, but it was good. The pork chop wasn't herb-crusted, it was more like herb-dusted, then grilled. The chop could have used a little less time on the grill, but it was tasty.
Underneath the large pork chop were oven-roasted lemon potatoes. It was more like a hint of lemon, which suited us fine, but the potatoes had that perfect roasted texture. There was a little firmness on the outside, and they were soft and warm on the inside.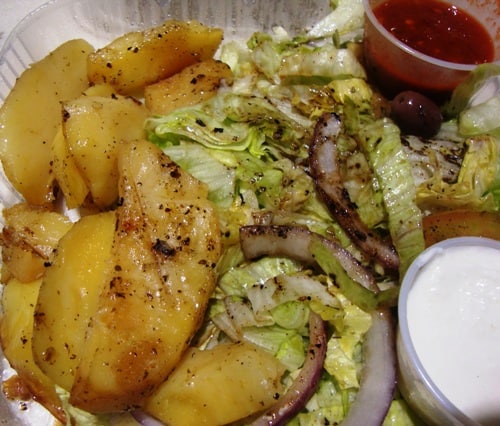 Next to the potatoes was the excellent Greek salad served by Uncle Gussy's. Always a great way to finish the meal.
Uncle Gussy's doesn't move around from place to place. They are on the SE corner of Park Ave & 51st St, which is where their Uncle Gus actually started the business in 1971.
Check their twitter here or our Mobile Munchies twitter feed to see what their Daily Specials are. In our opinion, that's the way to go.