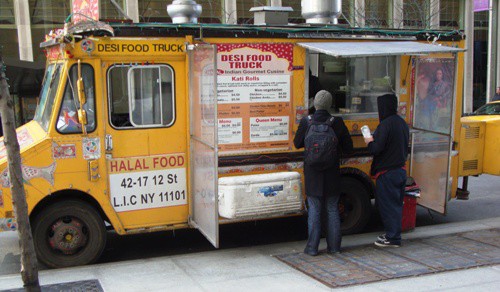 We first heard about the Desi Truck in the summer of 2010, and have enjoyed several lunches from there including kati rolls, curry chicken and chicken tikka masala.  For this visit, we wanted to try something new – and wouldn't you know it, they had a new dish called puri bhaji.
For puri bhaji, you start with puffed-up Indian bread (mine was shaped like a flying saucer), then you tear the bread in half and fill it with chopped potatoes that come in a light, mildly spicy curry sauce.  Viola!
Two pieces of bread and potatoes are $4 and 4 pieces of bread and (presumably more) potatoes are $6.  The bread was a little oily, but this was still a very enjoyable, vegetarian dish that was fairly light.
On the other hand, haleem is a thick, slow-cooked Indian stew with meat, wheat, barley and lentils – not light at all.  It is garnished with ginger, coriander, lemon juice and fried onions. This version had shredded chicken as the meat.
The owner Al asked if I wanted it spicy, and when I said yes, he tossed in a handful of fresh, fragrant chopped chili peppers.  That really kicked the heat quotient into high gear.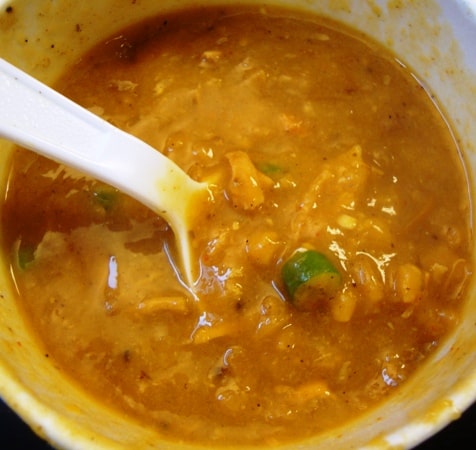 If you don't want it spicy, that's fine too.  There's a huge amount of flavor in the haleem without the chili peppers.  It's quite an aromatic dish from all the Indian spices, so expect your co-workers to ask what that great smell is.
The haleem had a moderate amount of spiciness without the chili peppers, and with the wheat and lentils, it was a hearty stew for a cold winter day.
A large haleem from the Desi Food Truck is $6 and I got the small size for $4.  Between the puri bhaji and the haleem, this was a delicious, filling Indian lunch for $8.
You can find the Desi Truck on twitter here or on our Mobile Munchies twitter feed.  Their general schedule is 49th or 50th St between 6th & 7th Ave several days a week for lunch, and they have recently started going to Amsterdam & 81st on weekends.  They are also around NYU sometimes for dinner.