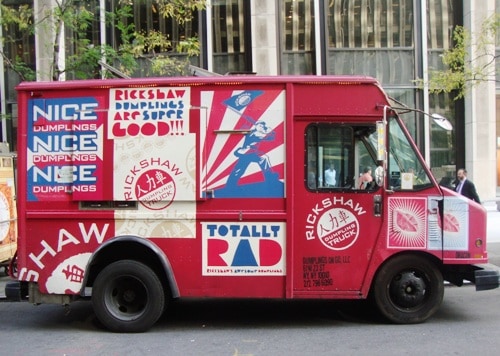 We felt like Duck Dumplings & Summer Rolls. We've been to the Rickshaw Dumpling Truck numerous times, and have covered most of the lunch menu, but there's one elusive Daily Special we have not been able to try yet – Peking duck dumplings.
We read about this special from time to time, but it seems like every time it's tweeted, the truck is nowhere near us. Well, that finally got rectified last week, with Peking duck dumplings by Rockefeller Center.
The Peking duck dumplings are a bit more than pork or chicken dumplings, costing $4.25 for 3 or 6 for $7, which was our order. We also saw a small sign mentioning summer rolls for $3.50. Sold!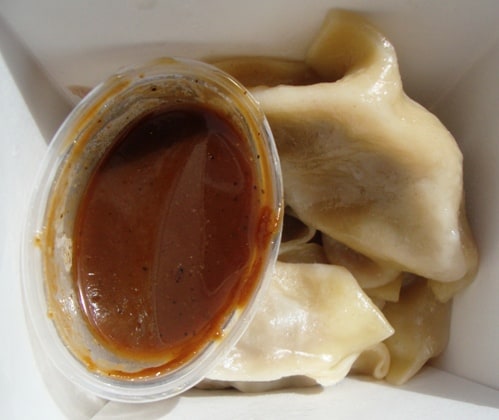 The duck dumplings were slightly larger than the other dumplings sold here, with a smooth half-moon shape, and a bulge of meat in the middle. The dumplings here are steamed rather than fried, which is our preference too.
The duck was finely ground, and was flavored mostly with 5-spice powder and probably a little soy sauce. There were also some small pieces of scallion in the mix.
The dumplings came with a tangy hoisin dipping sauce that was thick, and went very well with the flavor of the duck dumplings. We have to say, these were our favorite dumplings ever from Rickshaw Dumpling Truck. Too bad they don't serve Peking duck dumplings more often.
The summer rolls were 2 for $3.50, and came with a peanut dipping sauce. Inside a translucent rice wrapper were pickled julienned carrots and daikon and fresh mint leaves.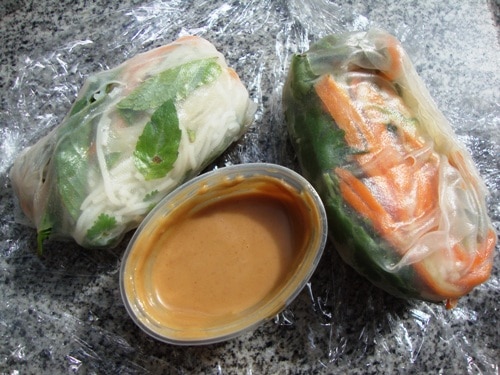 The summer rolls were refreshing. The tang and crunch of the pickled vegetables, and the minty flavor of  the fresh mint leaves were a good combo. The soft wrapper seemed like it was going to fall apart any minute, but it was pliable enough to hold everything together until the end.
About the only negative in this meal was the peanut sauce that came with the summer rolls. In our opinion, it clashed with the pickled vegetables. Not only did it not add to taste of the summer rolls, we fell like it detracted from them. After a couple of dips, we stopped, and liked the summer rolls better that way.
The Rickshaw Dumpling Truck has 2 trucks and makes the rounds of various neighborhoods in Manhattan and Brooklyn. You can find them on Twitter here or on our Mobile Munchies Twitter feed.