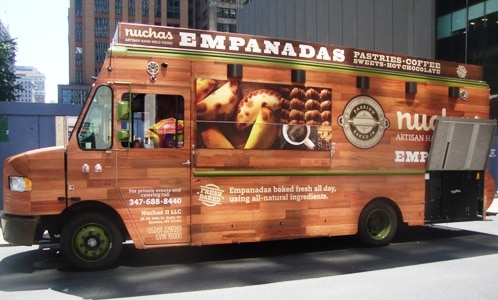 One of the newest food trucks in town in Nuchas Empanadas. We stopped by the truck for a NYSF First Look about 2 weeks ago, and recently went back to try some of the other empanadas on the menu.
The empanadas cost $3 each after tax, and they have a special of 3 empanadas and a drink for $10.  That saves you $1, and is exactly what I did.
One nice thing about Nuchas empanadas is they are baked, not fried, so there's no grease to speak of. A giant oven in the back of the truck has a number of shelves that rotate around.  That's how the empanadas are baked.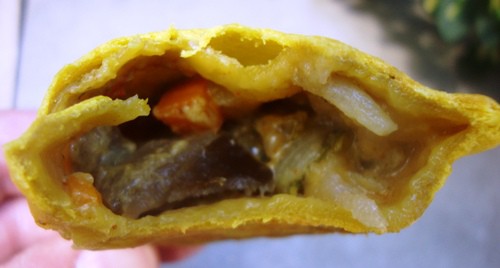 I started with the shiitake curry mushroom empanada, which had a mild curry flavor that was sweetened somewhat by coconut milk.  There were a number of veggies in the empanada in addition to the shiitake mushrooms, such as carrots, onions, eggplant and potatoes.
You can see in the photo that each ingredient was distinct, they weren't all mushed together.  Once it cooled off, the shiitake empanada was very tasty.
Both the shiitake empanada and the next one, the jamblaya, had turmeric dough, which imparted a deeper, quasi-Indian flavor to the dough.  It also gave the dough a yellowish tint.
Inside this empanada, it was just like a pot of jambalaya, with small pieces of shrimp, arborio rice, peppers, tomatoes and onions. It definitely had that creole tomato sauce thing going on, with bell peppers and onions being the dominant flavors.
The last empanada was the short rib, which could better be described as a beef bourguigon empanada. Inside was tender beef braised in red wine with onions, peppers and herbs. This was a beefy empanada, and I could even taste the red wine in the sauce. Very nice!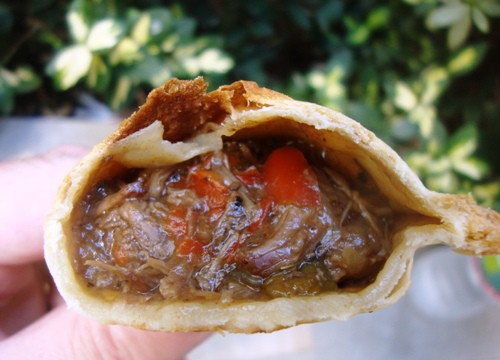 With 8 different types of empanadas, including 3 vegetarian and 1 dessert empanada, there's something for everyone.
The Nuchas truck hits several different neighborhoods, including the Hudson Square Food Truck Lot. You can find Nuchas on twitter here or on our Mobile Munchies twitter feed.