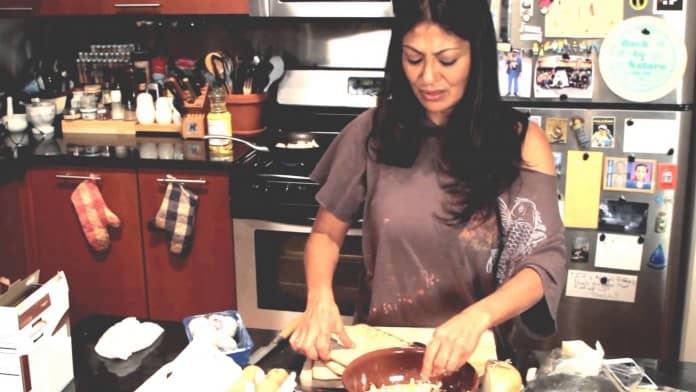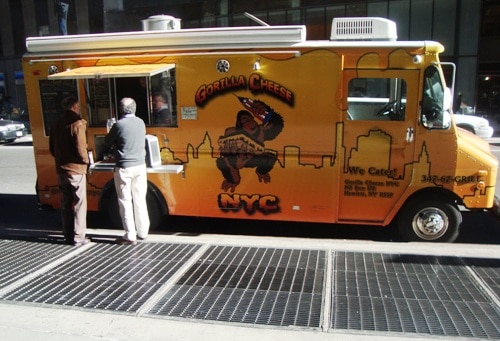 Ever eaten a melted Matzo Sandwich? You don't see a lot of street food vendors catering to customers for Passover. First of all, many street cart vendors are Arabs. Even though they are in New York, we don't expect to see them serving matzo sandwiches during Passover.
The Jewish vendors like Taim and Pocketful are closed for the duration of the holiday, but Gorilla Cheese came up with a different approach – matzoh melts! Today may be the last day of Passover, so you still have one more day to enjoy them.
Walking up to the truck on Friday, there were handwritten signs for the weekly special, and a sign that any sandwich on the menu can be made into a matzoh melt.
We went for this week's special – Swiss and muenster cheese, caramelized onions, tomato, chipotle aioli and…wait for it…bacon!
Now we can be observant and subversive at the same time. Somewhere underground, our ancestors are rolling in their graves.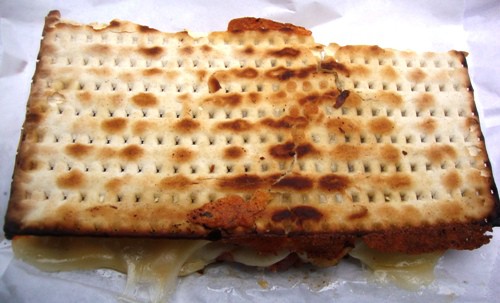 When we ordered the weekly special as a Matzo Sandwich melt, the guy taking our order did say "you know there's bacon in that, right?" And we smiled and said "yep".
Unlike the difference between bread and toast, grilled matzo and regular matzo are not that different. There is a slight grilled taste imparted, and the matzo is a little more brittle, but it's that different.
People don't eat matzo for the taste, they eat it because the bread dough didn't have time to rise when the Jews escaped from slavery in ancient Egypt. The real treat is what's inside the sandwich, not what's on the outside.
Each of the ingredients came through loud and clear, with the possible exception of Swiss cheese. Muenster is one of our favorite cheeses, so we didn't really mind the lack of Swiss cheese flavor.
There was plenty of bacon, which is a great combo with chipotle aioli and cheese.
Special mention must be made of the caramelized onions. A lot of places grill their onions and call them caramelized. The onions in the sandwich were actually caramelized on the ends, if not all the way through.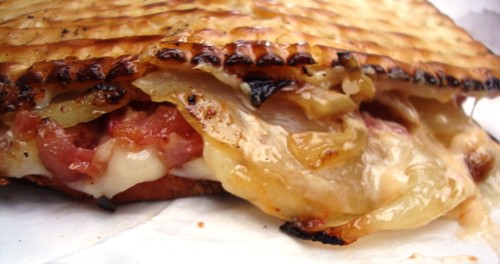 Even though the Passover holiday is almost over, Gorilla Cheese did matzo sandwiches with melted cheese last year, and they expect to have them again next year.
You can follow Gorilla Cheese NYC on Twitter here or our Mobile Munchies Twitter feed.  They have a special sandwich each week that's usually a good way to go.