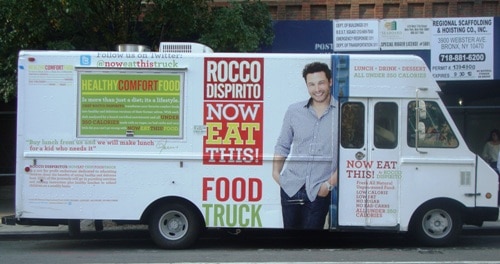 Now Eat This! is a food truck with a mission – actually a few missions.  It was founded by celebrity chef Rocco DiSpirito last November in conjunction with the release of his cookbook of the same name, which has 150 recipes for America's favorite comfort foods, and all dishes are under 350 calories.
Mission #1 is to teach America how to eat healthy by (mission #2) buying his book and using these recipes.  But before you think this is just another celebrity cookbook,  there's a great twist in mission #3 – 100% of the proceeds from food truck sales go to teaching New York City schoolchildren about healthy cooking and eating on Free Lunch Fridays.
Now Eat This! operates Mon-Thurs for the general public, and every Friday, the truck goes to a different school in the New York city area and gives free lunches to the kids, teaching them how to cook and eat healthier in the process.  Now that's a mission worth supporting!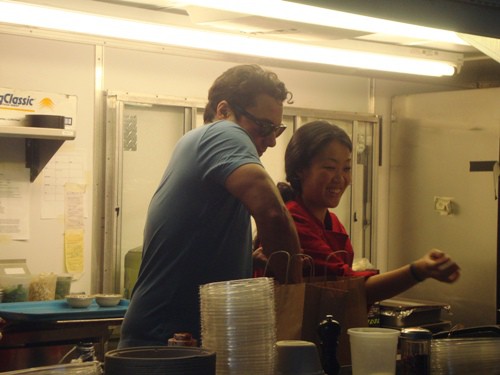 For the first month or two, Rocco was on the truck taking and bagging orders, but this time he wasn't.  Probably on a book tour or something like that.
As for the menu, when they first opened, there were only 2-3 main courses on the menu plus chicken noodle soup and brownies, but they have since expanded to 5-6 entrees daily.
Previously, I've enjoyed Mama's meatballs & penne and a chicken & broccoli stir-fry.  This time I went for another Italian dish, lasagna bolognese with zucchini.  Rocco is Italian after all, and I do love lasagna.  This lunch cost $7.50, or $9 with a side salad.  Bah, who needs lettuce?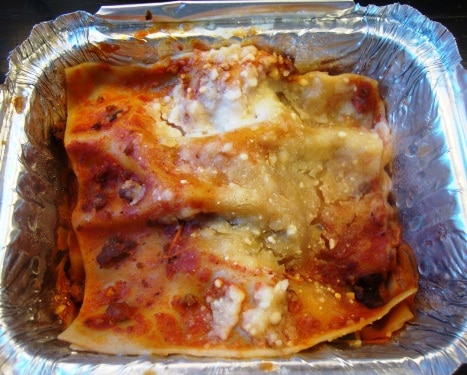 One way to teach Americans how to eat healthier is to reduce the portion size.  If you take the subway, you might have seen the recent advertisements showing how serving sizes have increased enormously over the past 20 years.  It is pretty astounding when you see how much serving size portions have increased so much over the past 20 years.
I was a little taken aback when I opened the lid on the container and saw the top layer of the lasagna.  It looked desperately in need of tomato sauce.  However, underneath the top layer was another story.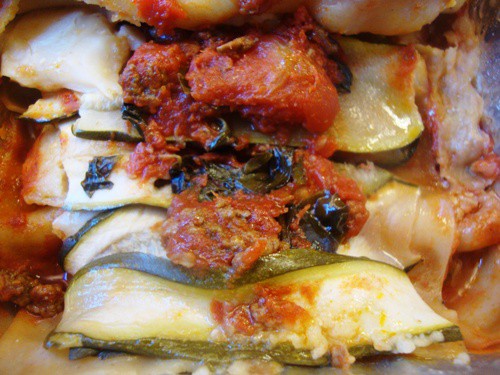 Just below the top layer of lasagna was zucchini, meat sauce with chunks of tomato, and some ricotta cheese. It all tasted good, but you can't really compare this to a big, rich, gooey lasagna that has tons of ground beef, sausage, ricotta and mozzarella.
This is more of a veggie lasagna, albeit with meat sauce.  I could taste meat in the tomato sauce and some ricotta cheese, but in order to get this dish to come in at 350 calories, they had to use low-fat ricotta cheese, replace the ground beef layer with zucchini, and reduce the portion size.
If you want to eat healthy and still have lasagna, this dish will do the trick – but to tell you the truth, I preferred Mama's meatballs and penne.  I also really liked the chicken & broccoli stir-fry, which had cellophane noodles, fresh cilantro and a nice, thick gingery sauce.
You can follow Now Eat This on twitter here.  The truck is usually on Hudson St just north of Houston St in the West Village, but they were kicked off 6th Ave in the 40's by the police crackdown on food trucks in midtown.  They told me they hope to try the Columbus Circle area, and have also been known to park on 5th Ave around 16th St.
Good food for a good cause!