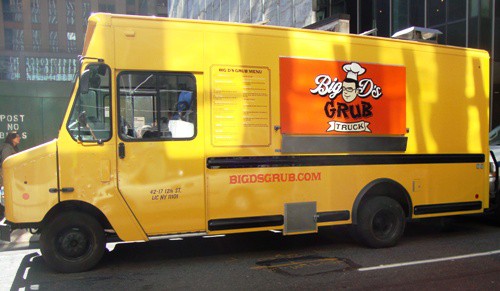 It's been a while since we checked in with Big D's Grub Truck. Big D (Dennis) has a nice menu of Korean tacos, grinders and rice bowls. Last time we had a grinder, so this time we decided to get an order of Korean Tacos.
The tacos come 3 for $7, and there's plenty of food for your hard-earned lunch money.  As for deciding which tacos to order, the choices are bulgogi beef, spicy pork, ginger chicken or spicy chicken.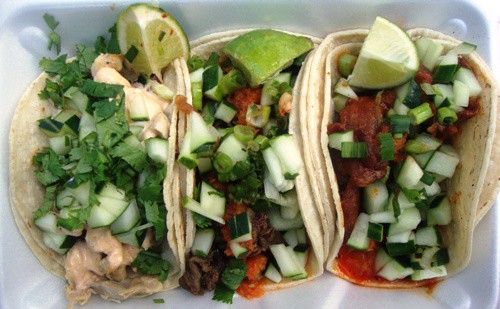 With several Korean tacos trucks around, there are a number of similarities, so it makes sense to highlight the differences.
Some Korean tacos trucks (rhymes with gorilla) put tons of ingredients into their tacos such as meat, kimchi, shredded cheese, pico de gallo, lettuce or slaw, and 2 or more sauces.
The tacos at Big D's are much less complicated. Inside the required tortillas are marinated meat, diced cucumbers, fresh cilantro and scallions. You might get a little kimchi too, but it doesn't dominate.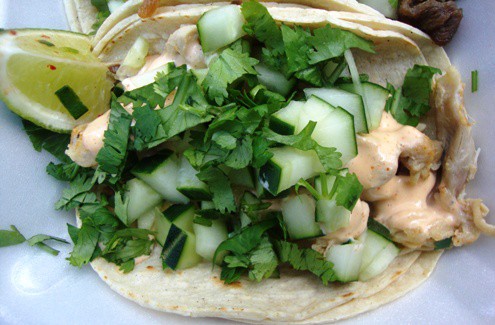 We started with the spicy chicken, which came with a chipotle mayo-type sauce. There was a little spiciness that built up eating the taco, but it wasn't too much. Of all 3 Korean Tacos, the chicken was the lightest in taste.
The beef bulgogi had a nice marinade, and it was well grilled, as bulgogi should be. The taste of sesame (oil) was also apparent, which we enjoy. The bulgogi taco had a little kimchi, but it was more like minced kimchi than big chunks of fermented cabbage.
We didn't know this at the time, but the last taco, spicy pork, was by far the spiciest. The meat was nice and chunky, with a sweet and spicy flavor to it.
Whereas the chicken taco was spicy from the sauce, the spicy pork taco was hot from the meat.
We tasted this one on our tongue for a while on the way back to the office. To clarify, that's a good thing.
Big D's Grub Truck makes the rounds of different neighborhoods, so find them on Twitter here or on our Mobile Munchies Twitter feed. Dennis is a regular tweeter, so that's the best way to find them.
Sometimes Big D's has special appetizers for a day or two, which he tweets about, so keep an eye open. It's often dumplings, but recently it was tostones. Crazy, eh?