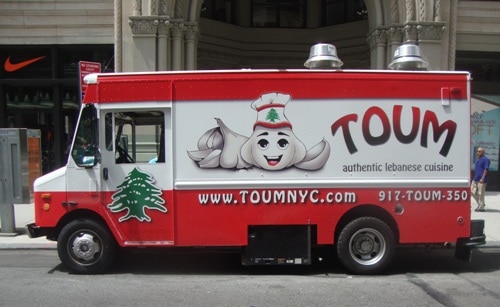 In case you were not aware, today in National Garlic Day. In honor of the occasion, we are reviewing Toum, which is the word for "garlic" in Arabic. How can you not love the logo of a smiling head of garlic on the side of the truck.
We've had most of the items on Toum's menu, but one we haven't tried yet is their kofta sandwich for $8.50. Not being sure how large it was, we also got a side order of fries for $3.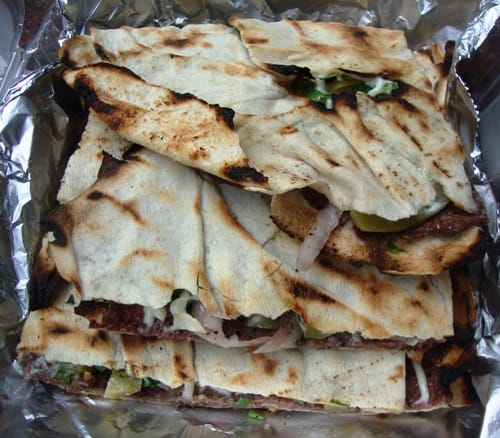 Opening the container, it was pretty clear we would not be needing the fries to have a full lunch. There were 4 large, thin squares of sandwich stacked on each other. Each square was made with bread (zatar?) that was grilled and crispy. We like crunchy things, and the bread was very tasty.
Inside the bread were layers of thinly sliced kofta, pickles, onions and tomatoes if you want. We asked for no tomatoes. There was also fresh cilantro and mayo on the sandwich(es).
The kofta at Toum was different than we've ever had before. Most of the Middle Eastern carts serving kofta have thick kofta shaped like hockey pucks or discs. It was very thinly sliced here, and decently spiced.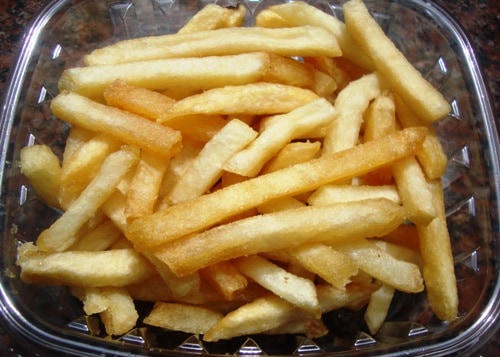 Even before eating the kofta sandwich, we tried the fries, knowing they were going to cool off quickly. While the fries were thin and crispy, they were only a little warm.
The fries could not have cooled off that quickly because we only walked 30 feet to sit down before tasting them. Unfortunately they came out of the truck only slightly warm, a no-no with fries. That was a shame, because these would have been excellent fries if they were hot.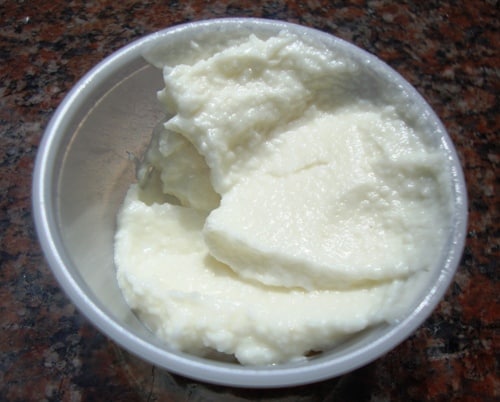 Along with lunch, we were given a container of toum, which was basically pureed garlic. It was strong enough to tingle our tongue, and we highly recommend the toum if you don't want anyone to bother you for a few hours after eating it.
Toum parks in different neighborhoods around town, so follow them on twitter here or on our Mobile Munchies twitter feed.
It's not hard to find Toum on the real NYC streets, but you can also see them on fake NYC streets next week on TV. Simon told us they recently filmed in an episode of Law & Order: SVU, and it's scheduled to air next Wed, April 24th. Check it out.