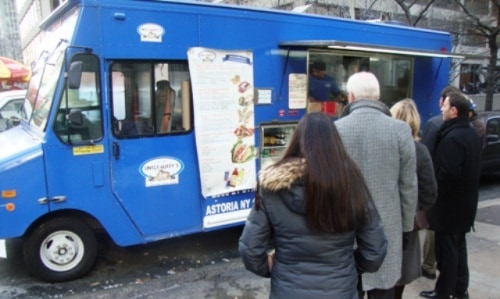 Sometimes we talk about the new breed of food trucks and sometimes we talk about the old school street vendors.  Uncle Gussy's is actually a hybrid of both.
Uncle Gussy's is on the corner of 51st St & Park Ave, as it has been for over 40 years.  Nick and Frankie are the brothers who run Uncle Gussy's, which was actually a Greek food cart started by their Uncle Gussy back in 1971.  The brothers upgraded from a cart to a truck in June 2010, which gives them more space to cook and more options for the menu.
Not too long after they bought the truck, Uncle Gussy's started featuring Daily Specials made by their Mom and Aunt Georgia.  This is real, authentic Greek home cooking.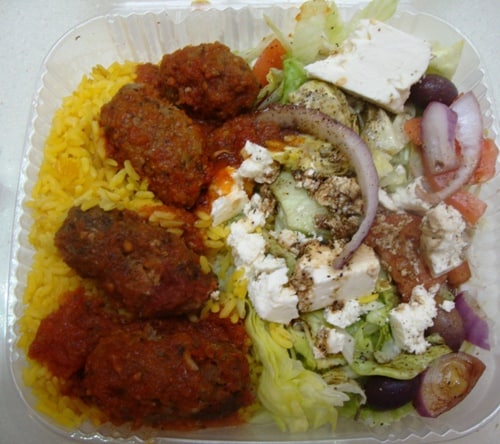 I had keftedes, which are Greek-style meatballs.  This lunch special cost $10, and included 4 oval-shaped meatballs served over yellow rice with tomato sauce.  A Greek salad was included as well.
Each oval meatball was the size of 2 round meatballs, so it was a good amount of meat.  With the sauce and rice, this was a very hearty dish, perfect for cold winter days.  The meatballs tasted really good too, with some herbs mixed into the meat.
After the meatballs and rice, a Greek salad was a nice way to finish the meal.  Most street food salads are pretty lame, but Uncle Gussy's Greek salad is one of the best around.  Large chunks of feta cheese, olives, red onions, lettuce, tomato, oregano and an oil and vinegar dressing.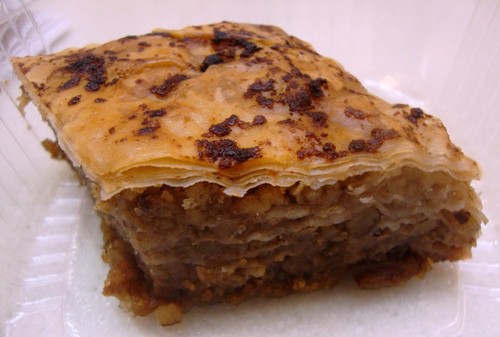 When I say the salad "finished the meal", that didn't include dessert.  I've heard about Aunt Georgia's baklava, but haven't tried it until today.
Baklava is often too sweet and syrupy for me.  While this baklava was sweet, it wasn't overly so, and there wasn't any syrup on it at all.  It was nutty and sweet, but I could easily detect cinnamon and cloves as well.  Nothing like homemade baklava to finish a Greek meal.
You can find Uncle Gussy's on 51st St & Park Ave every weekday.  One of the ways they are part of the new breed of food trucks is their embrace of twitter.  Even though they don't move around every day, they communicate with their followers and send out tweets here every day with their daily specials.  They are also in our Mobile Munchies twitter feed with lots of other vendors.
If you see keftedes (meatballs), konikisto (braised beef) or our favorite, pastitsio (kind of like Greek lasagna), get to Uncle Gussy's early, because the daily specials go quickly.  If you get there too late for the daily specials, they also have excellent souvlaki with real tzaziki (yogurt) sauce – but you knew that already!