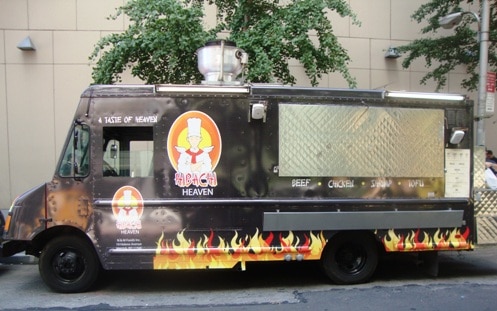 One of the newer food trucks in the city is Hibachi Heaven.  As you can probably guess, they serve Japanese hibachi-style food, although without the theatrics associated with those restaurants.  You're not going to see these guys tossing shrimp tails into their shirt pockets or onto their toques.
What you will see is well-prepared hibachi-style food at a reasonable price.
Menu options are beef, chicken, shrimp or tofu with veggies, fried or brown rice, and one of three sauces.  You can get it in a bowl or in a wrap.  It's not a big menu, but I would rather have a truck do one type of cooking right than try to do too much.  The full menu is here.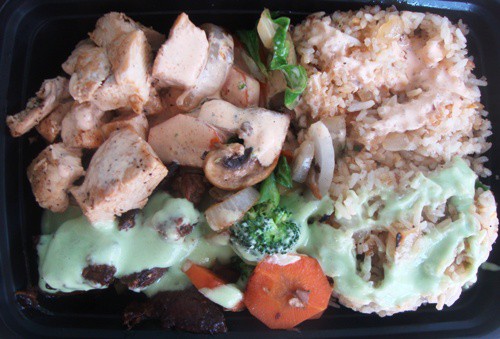 For our First Look, we enjoyed the shrimp, and this time we wanted to try the beef, but they were just about out.  I saw more beef cooking on the grill, but didn't have the time to wait around for it.
Since I didn't want to wait for more beef, Nick asked if I wanted beef & chicken.  Combos are usually $2 more, but since they were the ones who ran out of beef, I got a combination of beef and chicken for $8, the price of a chicken dish.  Now I get to try two dishes (and two sauces) in the same lunch.
I asked for the beef with wasabi mayo.  The pieces of beef were well-grilled and tender.  They could have used a little more (or stronger) marinade, but the wasabi mayo more than made up for it.
I have a little bit of a cold right now, and the wasabi mayo helped clear my sinuses.  I like wasabi, but was afraid there would be too much mayo in the sauce.   That wasn't the case, and the beef stood up to the strong flavor of the wasabi.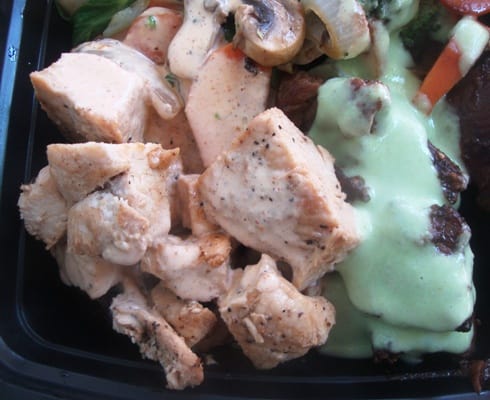 The chicken was cubes of white meat dotted with spices that looked like pepper, but didn't have the bite of pepper.
The chicken was fairly moist and tender, and there was plenty of it.  I had the yum yum sauce on the chicken.  Considering the other sauces are ginger and wasabi mayo, they must get asked a few hundred times a day what yum yum sauce is.   They said it was made with cajun spices, sugar and mayo, but it wasn't thick like mayo.  In fact the wasabi mayo was thicker.
The veggies were very good.  There were broccoli, carrots, onions, cabbage and mushrooms.  The veggies were cooked but still crisp, with plenty of life left in them.
The fried rice was a nice portion, and there were plenty of pieces of onion and scrambled eggs mixed in with the rice.
You can follow Hibachi Heaven on twitter here or on our Mobile Munchies twitter feed.  Hibachi Heaven's website is here.