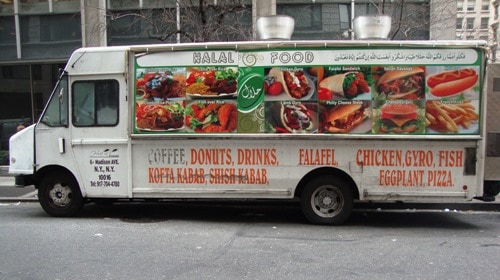 If you've ever walked by Madison Ave & 28th St, feeling for fish over rice, then no doubt you've seen the halal truck that's been parking there for years. We've walked by the truck dozens of times, but only recently stopped for lunch. One thing's for sure – this is one of the longest food trucks around.
The menu is standard halal truck fare, but they seem to have a pretty good following. One thing they don't seem to have is a name, with only Halal Food written on the signs.
This vendor does serve fish over rice, which you don't see too often. We've seen this vendor around for enough years to feel comfortable ordering fish over rice for $6.
They also have chicken, "lamb", falafel, gyros, burgers and a few more things, if you're not feeling as adventurous as us.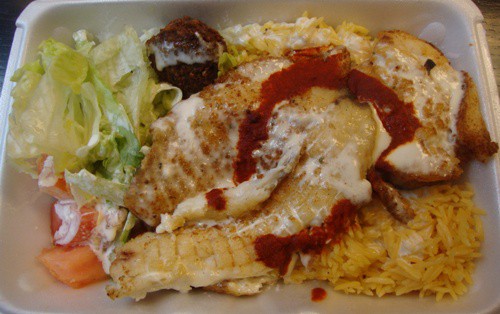 Some people think getting fish from a halal truck is like playing ptomaine roulette, but it's not like they use fresh fish. Of course it's frozen. What do you expect for $6?
Even though the fish was frozen, it was stored in individually-wrapped packages…and we got 2 fillets in the order.
The fish was thick and decent, and a good deal for $6. There was plenty of food for lunch.
They have the standard white and hot sauces. The hot sauce was fine, but the white sauce was not as thick as at most other halal vendors. It tasted ok, but was thinner.
They have both brown and yellow rice. As you can see, we got the yellow rice. It was good, although there wasn't much seasoning in it.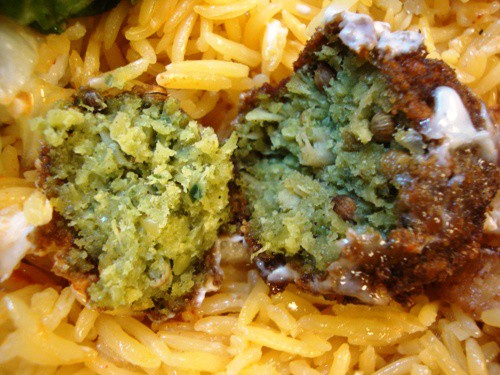 Without asking, they also tossed in a falafel for us to try. The falafel was on the herbier side, with plenty of cilantro and other spices visible to the naked eye. If you're looking for a good, cheap lunch, a falafel sandwich is only $4 here.
The Halal Food truck at Madison & 28th is not going to win any culinary (or Vendy) awards, but if you go in with the proper expectations, you can enjoy a decent lunch at a very good price. Sometimes, that's enough.