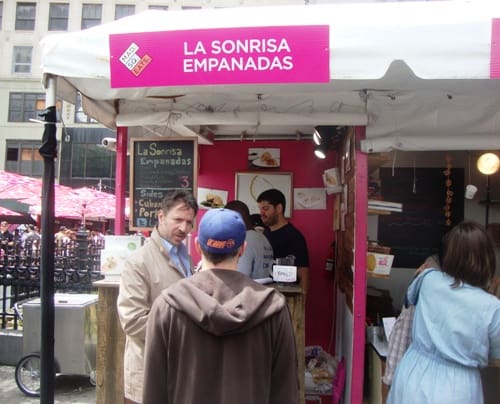 We first heard about La Sonrisa because they have a food truck in Jersey City.  While we haven't been able to get out to Jersey City for lunch, La Sonrisa currently has a stand at Madison Square Eats, and we finally caught up to them a few days ago.
There are about 25 booths, with some of the best food purveyors around  setting up shop and serving both lunch and dinner.  It's open daily from 11am-9pm.  For a full list of vendors, click here.  But hurry – Madison Square Eats ends June 1st.
Since we are all about street food, we wanted to try La Sonrisa Empanadas, and we got 3 different kinds of empanadas for $3 each.  After we ordered, Elvis (yes, Elvis) made up the empanadas by hand and dropped them into a vat of boiling oil.  You can see La Sonrisa's menu here.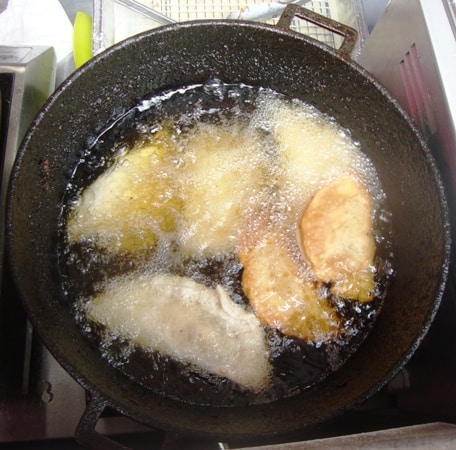 The empanadas come with small containers of spicy mayo or hot sauce upon request.  I got one of each.
The first one I tried was pulled pork.  The dough was hot and crispy, but was still pretty soft.  Inside was shredded pork that was cooked with some herbs like cilantro and parsley.  It didn't really have a bbq flavor that you might expect from the "pulled pork" description, but I dabbed on some spicy mayo & hot sauce and was pleased with the results.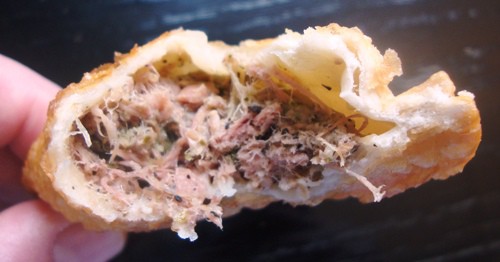 Next was the beef empanada, which had decently spiced ground beef with a few carrots and peas mixed in.  The meat here also benefitted from a dab of hot sauce.  I didn't get a good photo of the beef empanada, so you'll just have to imagine it.
The last empanada turned out to be my favorite – coconut curry chicken.  It had a nice amount of shredded chicken that was cooked in a (duh) coconut curry sauce.  The chicken was flavored well with both of these slices, neither of which were too strong.  I didn't put anything on this empanada and was quite happy.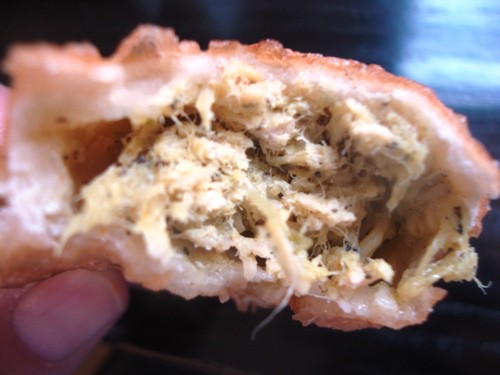 La Sonrisa will be at Madison Square Eats through June 1st.  After that, they expect to be back on the truck, but check their twitter here to be sure.  La Sonrisa will also at the Hester St Fair and the new Hester Nights Thursday evening food markets in midtown.
Lastly, La Sonrisa is also raising money to get their empanadas into grocery stores.  If you would like to help, check out their Kickstarter project, which is over 65% of the way to their goal of $10,000.  Imagine walking through a grocery store next year and seeing La Sonrisa Empanadas and thinking to yourself "I helped them get here".  That's a pretty good feeling.