As we wrote about recently, the Rhong-Tiam Supreme Burger Truck is now simply the Supreme Burger Truck. But there's more to the changes than just the name. There's been a change in ownership, as well as on the menu.
These days there is a definite Latin flavor emanating from the Supreme Burger Truck, to go along with the Asian influences that are still there.
To taste a little of each type, we recently got 3 empanadas and an order of 5-spice fries. Empanadas may be Latin on the outside, but these were definitely Asian on the inside.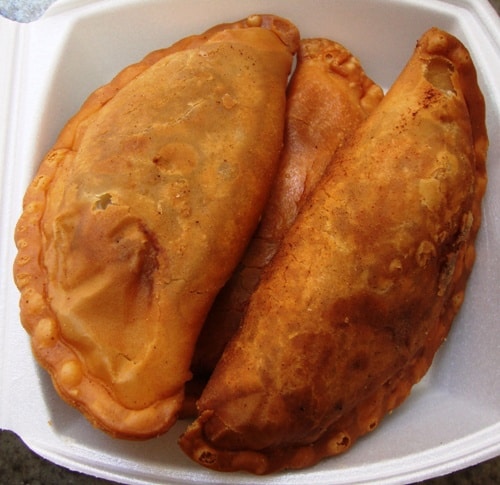 The 5-spice fries smelled so good, we attacked them first. A small order costs $3.50 and a large order is $5.50. Our regular readers know how much we like 5-spice powder, and to put it on fries was an interesting idea.
It ended up a little curious though. The initial bites of the fries had the potato and 5-spice flavor, but it faded quickly.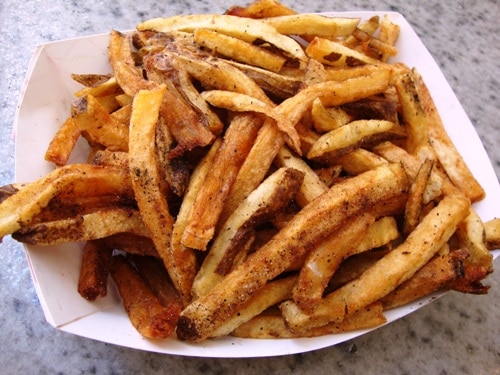 We don't know if they need to add more 5-spice powder, or if the spice just isn't strong enough to stand up to the absorption of flavors that potatoes take. Hopefully they simply need a heavier hand on the spices.
This was the case with some of the empanadas, but not all.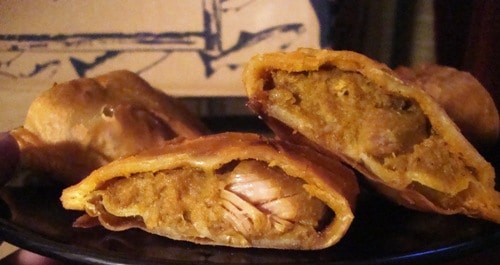 The yellow curry chicken empanada had pieces of solid chicken in a mild curry flavored, thick sauce. Pretty tasty, but a heavier hand on the curry would have been appreciated.
The lemongrass chicken was comprised of ground chicken, which we're not usually crazy about in a dumpling, empanada or momo.  It's difficult to keep ground chicken interesting, and lemongrass is not one of our favorite flavor either, so this was our least favorite of the three.
In our opinion, the basil beef (below) was the most interesting of the empanadas. While the beef was ground too, it was seasoned with basil, peppers and onions, which made for a pretty good empanada.
The empanadas cost $5 each, which is a lot for an empanada, but these were larger than your usual empanada. We wouldn't normally get 3 for lunch, but wanted to check them all out. 2 would be enough for most people for lunch.
You can find the Supreme Burger Truck on twitter here or on our Mobile Munchies twitter feed.