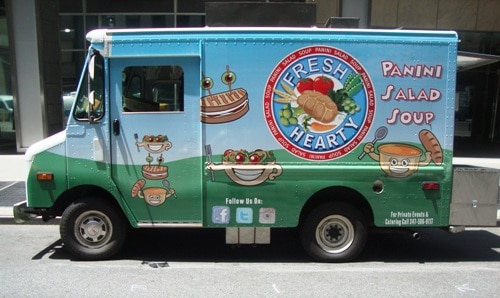 Fresh & Hearty has become one of the fixtures at the regular food truck spots around town since they opened back in April. We've had two lunches there, and the jury was still out as to whether they would receive our recommendation.
It's obvious they are not in the same league as the best food trucks in town, but can you get a decent, well-priced meal there?
Yesterday we got the Cranberry Walnut Salad for lunch. It costs $5 for just the salad, or $7 with grilled chicken or turkey added. At least they have the well-priced part down. Let's see about the food.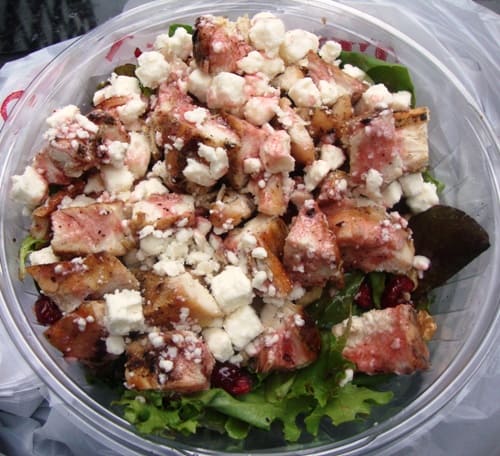 As far as the size goes, this was a decent amount for $7. There was plenty of grilled chicken, feta cheese and raspberry vinaigrette dressing on top.
The chicken was somewhat dry, but the raspberry vinaigrette helped moisten things up, and also gave everything a fruity taste. We liked that, but a little less time on the grill for the chicken, please.
The feta cheese was not the best feta we've had, but it was ok.
We didn't really hit the cranberries and walnuts until most of the chicken and feta were gone, but once we did, it was good. While the cranberries and walnuts were more towards the bottom of the container, there was plenty, and the the final portion of the salad was pretty nutty and fruity. Sorry we didn't get a photo of it.
This was our favorite lunch so far from Fresh & Hearty, with a solid grade of B. If they use a better grade of feta cheese, and grill the chicken less, this could be kicked up from a B to an A.
You can find Fresh & Hearty on twitter here and on our Mobile Munchies twitter feed.
Here's their panini menu, soup menu, and salad menu. They have several combos too, where you can get half a panini and small soup, salad and a small soup, or half a panini and salad.
As the weather continues getting cooler, we'll probably try their soups too.