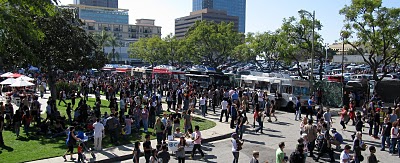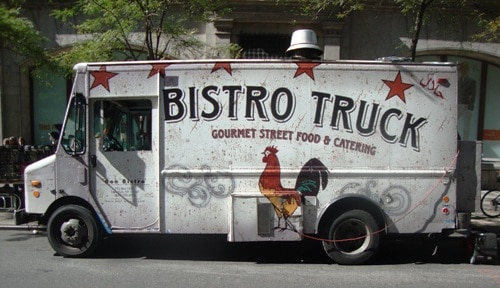 It's been a while since I've been to Bistro Truck, one of my favorite food trucks and a 2010 Vendy Award Finalist.
What sent me down to 'Da Nest (as Yassir calls his spot on 5th ave & 16th St) was the tweet yesterday with the Daily Specials.  In this case it said "grilled steak with creamy mushroom sauce".
That sounded like a good choice for lunch ($10).
After I got my lunch and sat down to eat, I saw 3 nicely grilled pieces of steak under some mushrooms and cream sauce.  The steak was in strips, kind of like skirt steak, but thicker.
Using the plastic fork and knife that came with lunch, I cut off a piece of steak to try by itself.  The steak was medium rare, and it tasted like the steak was marinated.  The meat was tender and flavorful, with a taste that can only come from flame-grilling the meat.
It was even better once I started taking bites of the meat with mushrooms.  The sauce was creamy, and it was really good with the mushrooms and steak.
I then put on some of the hot red pepper paste that came with lunch, and boy did it have some serious heat!  There was also a small container of harissa mayo that was good on the steak too, but it changed the flavor somewhat, so I used it sparingly.
I almost forgot to mention the basmati rice the steak was served on.  It was cooked just right, with some herbs adding to the aroma and taste.  It also seemed like the rice was cooked in chicken broth instead of water, which added a little extra richness.
As for side dishes, there was a chickpea salad and a regular salad with a balsamic vinaigrette dressing.  Both were pretty refreshing, with the chickpea salad adding some heft to the meal.  I don't expect to be hungry until dinner, if then.
The grilled steak with creamy mushroom sauce from Bistro Truck was excellent, as their food usually is.  It cost $10, as most of the Daily Specials do, but I would rather pay a little more for a lunch of this quality food than a little less for something of lower quality.
One thing I haven't tried yet is the lamb burger from Bistro Truck.  That's next on the list – unless Yassir comes up with another great special next time I'm there.