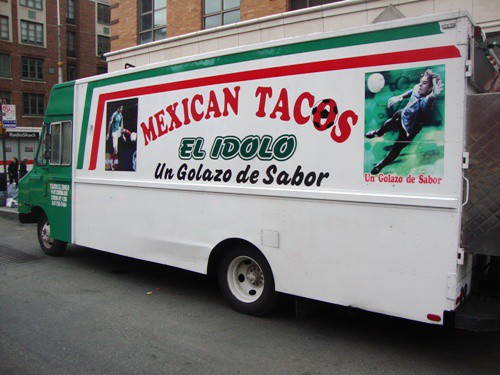 Since it was raining during lunch recently, we wanted something nearby. The El Idolo Mexican Tacos truck often parks on 6th Ave, just north of the West 4th St subway station entrance. That's convenient for us. We ordered a sandwich and waited under the truck's overhang, then scooted into the subway with our lunch.
Even though El Idolo is a taco truck, there are many other Mexican dishes on the menu. We were in the mood for a sandwich, meaning either a torta or cemita, and wanted something spicy on this wet, cold day. We went for a chicken tinga cemita for $7.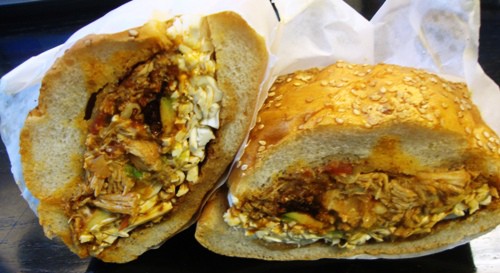 The cemita comes on a sesame seed bun with shredded chicken, avocado slices, cooked onions, refried beans and cheese.
First of all, this was a big sandwich for $7. There was plenty of shredded, spicy chicken in the cemita, as well as the other ingredients. When we say spicy chicken, we mean spicy chicken! It you want a chicken sandwich that isn't spicy, get the regular chicken instead of the chicken tinga as a filling.
The slices of avocado helped cool things off a little, and added a nice flavor to the sandwich.
The other interesting ingredient was the cheese. We're not sure exactly what it's called in Mexico, but it was similar to string cheese, both in taste and texture. The cheese was a mild white cheese, along the lines of a mozzarella, and it was quite stretchy.
Update –  Thanks to NYSF reader @OGAndino, who told us the cheese used is queso Oaxaca (pronounced "wahaka") named after the region of Mexico.
The cemita can get a little messy, so we suggest keeping it in the paper wrapper when you eat it.  Man, this was a filling lunch!
The El Idolo Taco Truck doesn't tweet or have a website, but they are often on 6th Ave between West 4th St & Washington Place. We have also seen them on West 14th St, around 7th Ave, and hear they are sometimes in the Financial District for lunch.
El Idolo is one of those food trucks that you can't necessarily seek out, but if you run across it, you should come away with a satisfying snack or meal at a good price. Tacos are $2.50, and are pretty good too.