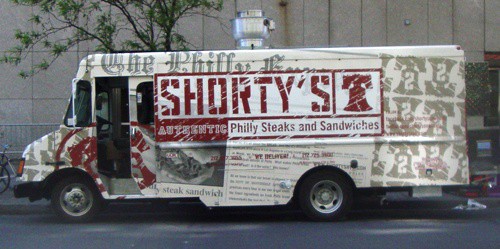 We're slowly working our way through the menu of Shorty's On Wheels. We've already had a roast pork sandwich and a classic Philly cheesesteak, which is probably their most famous dish. The next choice on the menu was easy – Buffalo Chicken Steak for $10.
We're big fans of Buffalo Chicken Sandwich, from the hot sauce to the bleu cheese.  Celery we can take or leave, but it's not on this sandwich, so that didn't matter.
Taking the Buffalo Chicken Sandwich out of the bag, you could smell both the bleu cheese and the pungent hot sauce.  BTW, you can get ranch dressing instead of bleu cheese, and there are both mild and hot buffalo sauces. I'm sure you can guess that we went for bleu cheese and hot sauce.
Opening the wrapper, I was a bit surprised that the chicken was basically shredded.  Most buffalo chicken sandwiches I've had were either cutlets, fingers, or large chunks of chicken. This took a little getting used to.
Once I took a few bites, the wonderful buffalo chicken flavor was evident. There was the strong bleu cheese taste, the spicy hot sauce, and the soft, steamed hero bread.
Did I mention that Shorty's actually bakes this bread on the truck? There's a bread oven on the truck where they bake the heros fresh every couple of hours.
Since texture is such a big part of eating, I must say that I prefer whole pieces or large chunks of chicken to the tiny, shredded pieces of chicken in the buffalo chicken sandwich. Calling it Buffalo Chicken Steak on the menu is even more confusing.
Don't get me wrong, this was still delicious, but there is one way I think it could be better.
You can follow Shorty's On Wheels on Twitter here or on our Mobile Munchies Twitter feed.  They don't seem to be tweeting regularly, so we contacted Shorty's to find out their schedule. It is as follows:
Mon-Tues-Fri
 7am-10pm — 151 maiden lane (corner of front st) – Delivery Available
Wed
 7am-3pm – DUMBO — 5pm-10pm – 151 maiden lane
Thurs
 7am-3pm – 47th & park — 5pm-10pm – 151 maiden lane
Sundays (July)
– Pier 13 Hoboken
Also, Lil' Shorty's opened TODAY at 133 East 31st St, between Lex & Park. It's a tiny hole in the wall for takeout and delivery, with the same great menu.