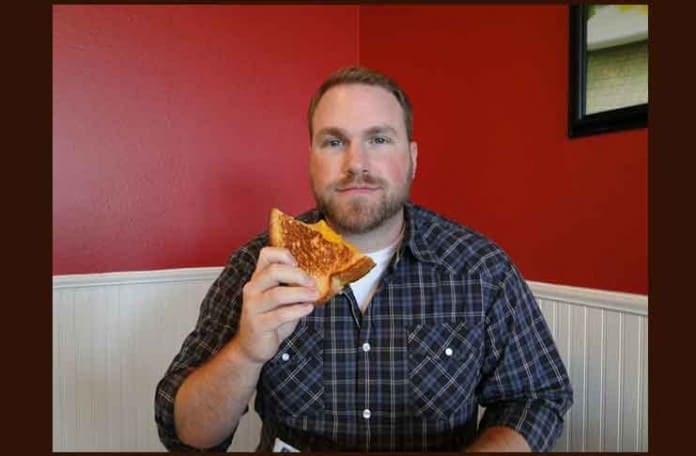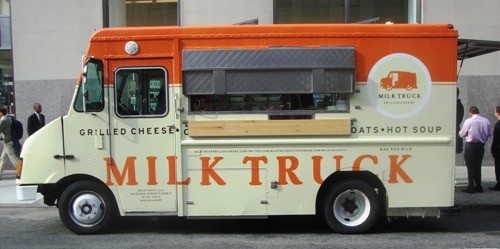 One of the more eagerly awaited food trucks in New York has been the Milk Truck.  Keith Klein and his posse have been building their reputation at food gatherings such as Brooklyn Flea over the past couple of years, and they recently had a stand at Madison Square Eats.
We enjoyed a grilled ham and cheese from the Milk Truck stand at Madison Square Eats, so we've tried their food once before, but this is our First Look at lunch from the actual Milk Truck.
We were tempted to go with their special, which was a classic grilled cheese and tomato soup combo ($10), but changed our mind at the last minute to the Three Cheese Grilled Cheese ($7.25).  I figured if I'm gonna have grilled cheese, let's go for three different types.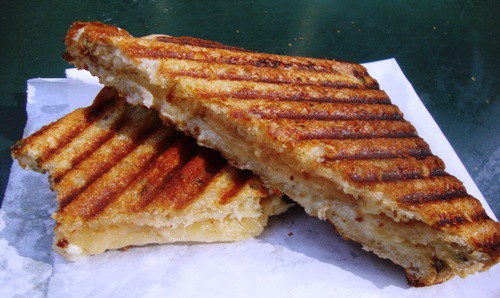 After I ordered and was waiting for lunch, I started talking to two people with a camera and microphone who were filming something at the truck.  They turned out to be journalism students at Columbia University who were doing a project on food trucks for their class.  I ended up doing an interview while my lunch was being prepared, and ended it by taking a couple of bites on camera.  That's why the sandwich above has a couple of bites taken out of it.
The first bite on the corner was very crunchy, with the end of the crust being almost like a snack food.  The second bite got into the cheeses, which melded together deliciously.  There were cheddar, gruyere and blue cheese, giving the sandwich both sharpness and creaminess.
And there was a tartness inside the sandwich too, with thin slices of caramelized granny smith apples.  This was a nice touch, with the apples adding a whole other dimension to the sandwich.  Apples go very well with most cheese.
As for the bread, that added a couple of dimensions too.  The bread had a little rosemary in it, adding an herbiness, and the ridges made by the sandwich press added texture.
Today's Lunch from the Milk Truck was very good.  The sandwich had a lot of different things going on, not the least of which were a trio of gooey, melty cheeses offset by tart pieces of apple.
Based on the two lunches I've had from the Milk Truck, the sandwiches appear thin when you get them, but don't let that fool you – they are packed with flavor.  Make that several flavors.
You can follow the Milk Truck on twitter here or on our Mobile Munchies twitter feed.