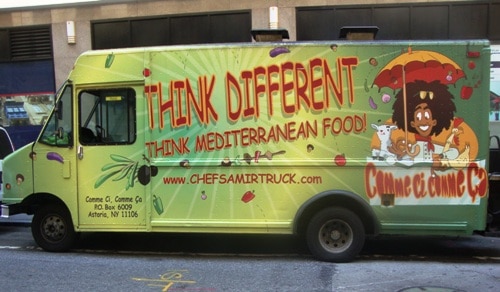 I'm always on the lookout for new menu items to try from my favorite food trucks, so when the Comme Ci Comme Ca truck tweeted about a new Beirut Sandwich for $7, I wanted to try it as soon as possible.
After I ordered, the person behind me ordered a veggie cigar appetizer, which cost $4.  Realizing I had never tried this dish either, I asked Chef Samir to make up an order for me too.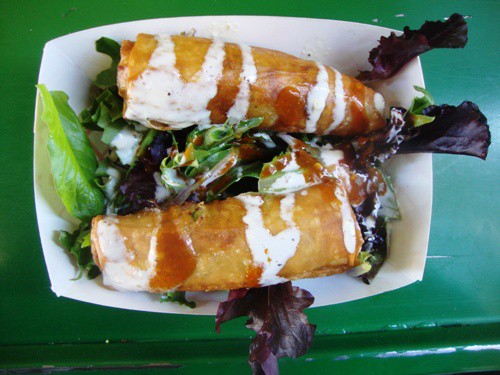 The veggie cigars come two to an order.  They may look like egg rolls, but are actually made with phyllo dough, which is much lighter.
Inside the cigars were julienned vegetables with some herbs and a touch of soy sauce.  The cigars were served on a bed of greens, and a white sauce was drizzled on top, as well as a little glaze.  The cigars were much softer and lighter than they looked, but tasted just as good as they looked.
At times the truck has ground beef & feta cigars and chicken with almond cigars, but they only had veggie today.  No worries, these were excellent.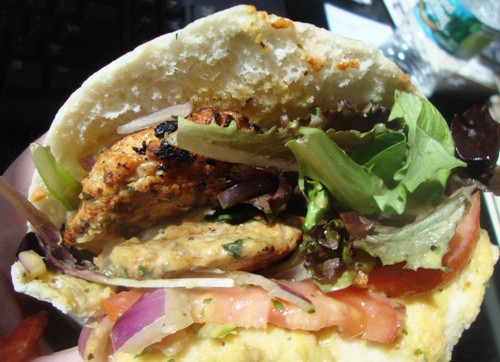 The main ingredient in the Beirut sandwich was small patties of seasoned grilled ground chicken.  I'm not usually a big fan of ground chicken, but these had a decent amount of herbs and spices, and were grilled very nicely.  After going to the Comme Ci Comme Ca truck many times, I have to say Chef Samir is a master griller of meats and vegetables.
In addition to 4 small chicken patties, there was sliced tomato, greens, red onion and hummus in the pita.  Since there was already hummus on the sandwich, I only got hot sauce.
As I got into the sandwich, the hummus was more like a thick sauce than the quicksand-like consistency I'm used to in hummus.  It was good on the sandwich, but a little different than I expected.
As for the hot sauce, it was exactly as expected – HOT!  Chef Samir knows how to bring the heat.
You can follow the Comme Ci Comme Ca truck on twitter here or on our Mobile Munchies twitter feed.  The other thing I really like about this truck is the option of getting couscous instead of rice in your platter.  It's a real change of pace from the rice or pita bread I usually get with lunch.