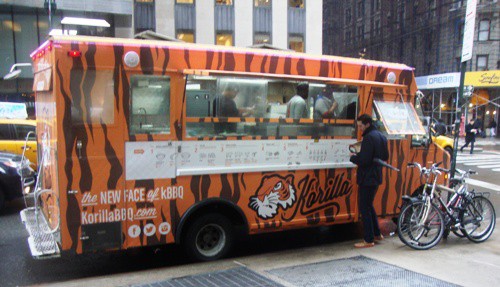 Back in late 2010, Korilla BBQ took the NYC food truck world by storm, as the first Korean fusion street vendor in our fair city. (Now there are at least 4.)
Korilla went on to win the 2011 Vendy Award for Rookie of the Year, and since then, have had some ups and downs, which we won't go into here.
After a hiatus earlier this year, Korilla is back, serving burritos, rice bowls, and their latest menu addition, salad bowls for $7. Curiously, Korean tacos, which first brought them to fame, are no longer on the menu.
Even though it was a cold, wet day, we still ordered the salad bowl, pretending it was the middle of summer. It would be up to the spicy pork to warm our insides.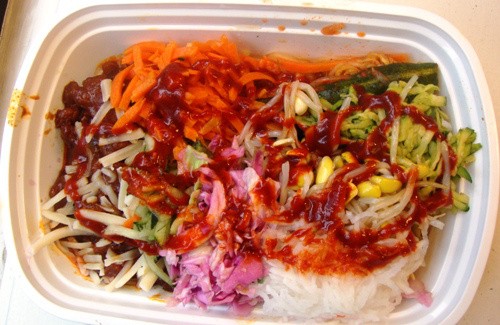 While the menu showed the salad bowl being served in a large leaf of red lettuce, it was nowhere to be found. That's fine. There were plenty of other things to keep us busy.
In the container, besides the pork, were lots of different veggies and salads. We had shredded carrots with a sesame flavor, finely shredded cucumber salad, pickled red cabbage, bean sprouts, pickled daikon with a sweet sauce (mirin?), and a couple of types of kimchi (cabbage and a cucumber spear).
With all these different salads, this was one of the healthier lunches we've had recently. It was also one of the more varied, with pickled, sesame, sweet and plain veggies all in the same lunch.
As for the spicy pork, it lived up to its name. The meat was tender, and covered in a thick, spicy marinade. Although there was a little Monterey jack cheese shredded on top, we would have liked even more. Isn't that always the case with cheese?
You can find Korilla BBQ on twitter here or on our Mobile Munchies twitter feed.