Last week we had a chance to try the new Miami Food Machine truck. We call this a Quasi-First Look because the truck is owned and manned by the Teran brothers, who we all know from the Bongo Brothers Cuban Food truck.
As we told you recently, Albert and Danny were sent a Cease & Desist letter from Gloria and Emilio Estefan, who own a small chain of 5 Bongos Cuban Cafes in South Florida. They thought a Cuban food truck 1,300 miles away might confuse their customers. Really?
Albert and Danny were forced off the road for a few months, and are now back as the Miami Food Machine. We're surprised the Estefans didn't think the new name would confuse their Miami Sound Machine fans.
The Miami Food Machine is a re-branded truck with a new menu. Danny told us the Bongo Brothers menu was more traditionally Cuban, whereas the new MFM menu is more Cuban-fusion, whatever that means.
We decided to start with their daily special, fried shrimp ($9), which you can get as tacos, sliders or a rice bowl. We opted for the rice bowl.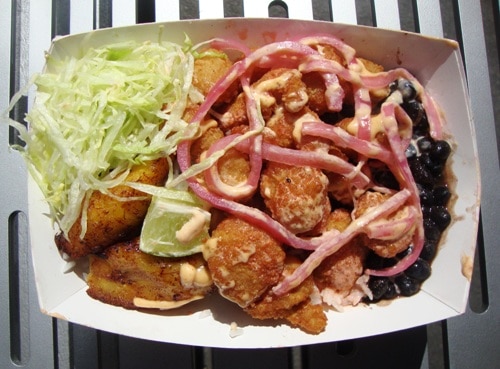 We don't know how you feel, but IMHO, this whole tacos/sliders/rice bowl thing is getting a bit out of control. How many food trucks can you name with this m.o.? The answer is: too many.
Of course, execution can be just as important as style, and what stuffs the tacos or sliders or sits on top of the rice is crucial.
In this case, there were a lot of juicy fried shrimp, like the kind you get in a shrimp basket. We didn't count, but there were plenty.
Along with the fried shrimp were pickled red onions, shredded lettuce, black beans and white rice, which were all the same as they served on the Bongo Brothers truck, meaning they were good.
What stood out was the tabasco aioli sauce. It really picked up the dish nicely. We asked what else was in the sauce, and Albert just started listing ingredients: sriracha, mayo, garlic powder, onion powder, paprika, plus orange and other citrus juices. Funny, he didn't mention tabasco.
What we enjoyed even more were two big pieces of plantains (maduros?) that made for a great dessert. They were starchy and sweet, and there was even a little caramelization around the edges. Yum!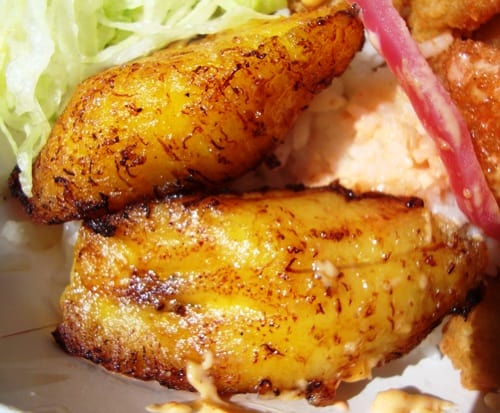 You can find Miami Food Machine on twitter here or on our Mobile Munchies twitter feed.
We even came up with a new slogan for the truck: "The Salsa's Gonna Get Ya'!"
Hope we don't get a Cease & Desist letter for that one.