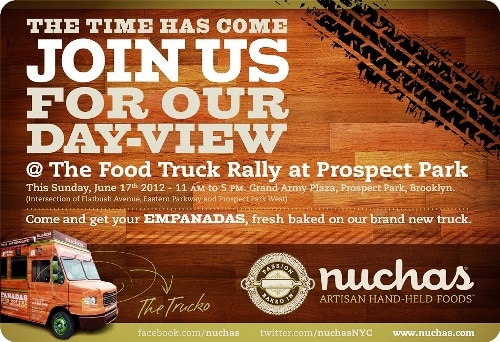 If you've been to Times Square, you may have noticed a freestanding kiosk called Nuchas that serves empanadas.  We haven't had a chance to try Nuchas Empanada yet, but now we won't have to go to Times Square, which is a very good thing.
Nuchas Empanada recently came out with a food truck, and it debuted at the Prospect Park Food Truck Rally on June 17th.
Click through to find out how to find them, and what you can expect to find once you get there.
Nuchas Empanada has 4 different types of meat empanadas, 3 types of veggie empanadas, and a sweet empanada.  They cost $3 each after tax, and look delicious.
You can find Nuchas on twitter here or on our Mobile Munchies twitter feed.  Their website is here and their kiosk is on the east side of Times Square by 44th St & Broadway.  The Nuchas menu is here.