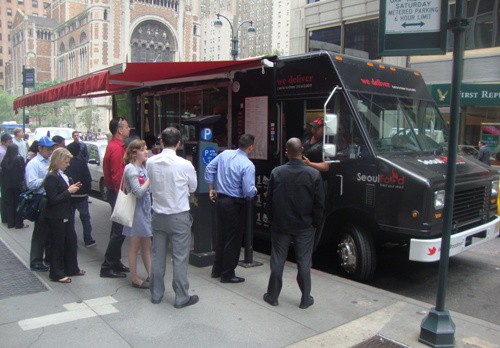 Are food trucks getting too successful for their capabilities?  That's the question I walked away with after ordering from Seoul Food Truck, the Korean truck that has been around since last December.  I asked the same question after waiting 30 minutes at Cinnamon Snail last week.
There were a lot of people who already ordered and were waiting for their lunch when I walked up. The guy taking my order said 10 minutes, which seemed optimistic.  After waiting 15 minutes and starting to see people who ordered after me get their food, I went to the pick-up window.  To my surprise, they didn't have an order with my name on it.  What?!  Don't they know who I am (said with mock indignation)!
I told the woman my order was bibimbap with brown rice, which cost $10.75 after tax.  My missing lunch was put together right away, which only took a couple more minutes, and I walked away with my bibimbap. (That would make a great song title – My Bibimbap.)
Settling down for lunch outside a couple of blocks away, it was time to see if lunch at the Seoul Food Truck was worth the tsuris.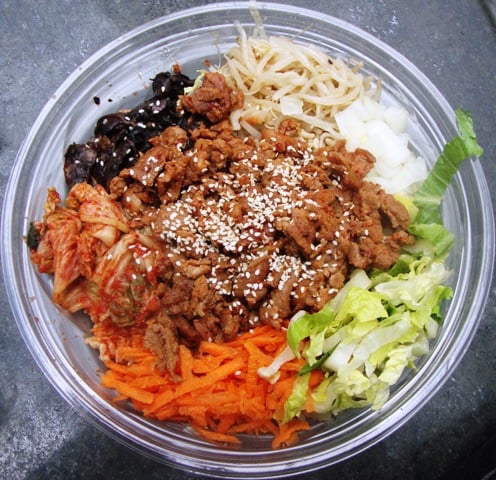 The container was pretty heavy, with plenty of food inside.  Opening the lid, there were separate sections with carrots, lettuce, kimchi, mushrooms, bean sprouts, onions and spicy pork.  It was all over rice (brown or white) and sesame seeds were sprinkled on top of the pork.
This was a tasty, healthy meal.  The pork pieces were grilled and had a little spiciness to them.  There were also two hot sauces available on the side if you want more heat – gochujang (chili paste) and sriracha (hot sauce).
After tasting the various items, I mixed it all together so future bites had meat, rice and veggies.  That's the way to go, if you ask me.  Nice lunch!
Even though there was a lot of food, it was not a heavy meal.  I walked away feeling like I had just eaten a lunch that was good for me, which is the exception to the rule with my street food lunches.
In addition to bibimbap, a true Korean dish, Seoul Food has the (now mandatory) tacos and burritos with Korean meats and veggies, as well as their version of banh mi.
You can follow Seoul Food Truck on twitter here or on our Mobile Munchies twitter feed.   To see their full menu, look here, here and here.