Feel like tasting Sliders? One of the lunches we had last week in LA was from Slider City. They have 14(!) different types of sliders to choose from on the menu, each named after an American city.
You get 3 sliders of your choice and a side of fries for $10. There are 5 different types of fries to choose from too.
We got New York (natch), Miami and New Orleans sliders, plus lemon pepper fries. Unfortunately, they were out of the garlic pepper fries.
We used to be against the concept of sliders, because who wants all that bread. These days, we like the idea of trying 3 different dishes instead of just one. Plus, sliders rolls are usually fairly light as bread goes.
Lunch took quite a while to come out of the truck. It turned out they were having trouble with the fryer, and it was a good 15 minute wait.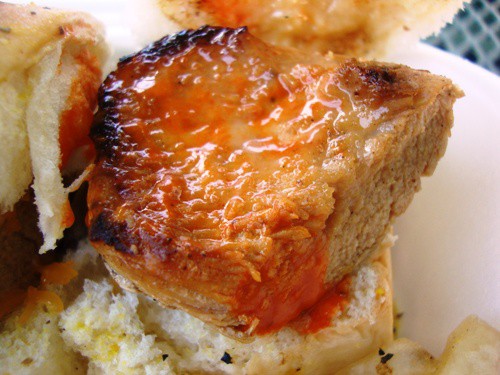 After getting our lunch, we started with the Miami slider. The chicken was grilled a little too much on one side, but overall it was good. There was a spicy, fruity sauce on the patty, but no sign of the advertised jalapeño and onion. Oops! Guess they got a little preoccupied with the fryer.
The New York slider was next, which was a beef patty. It came with relish, horseradish and cheddar cheese. The horseradish wasn't too noticeable, but we always put relish and some type of cheese on our burgers, like this was done. Nice job on the New York slider.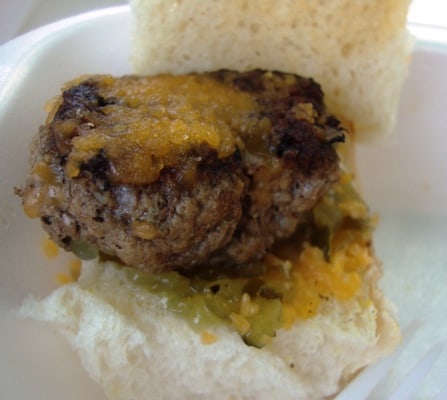 We ordered the New Orleans slider because it was basically a Buffalo chicken slider. No idea why they called it a New Orleans instead of a Buffalo.
The chicken patty was topped with a nice buffalo sauce and shredded cheese. Once again, no sign of the advertised mushrooms. Tasting sliders went well…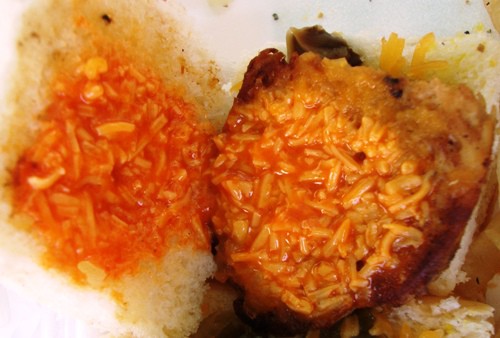 Despite the problems with the fryer, the fries were very good. Long, thin and a little crispy, with a healthy dose of lemon pepper. It doesn't look like there is much seasoning on the fries, but they tasted very good. Probably the best fries we had all week.
Hopefully we just caught Slider City on a bad day. The food was good, but the fryer problems proved to be a major distraction, between the wait and the missing toppings.
You can find Slider City on twitter here, and their website is here.