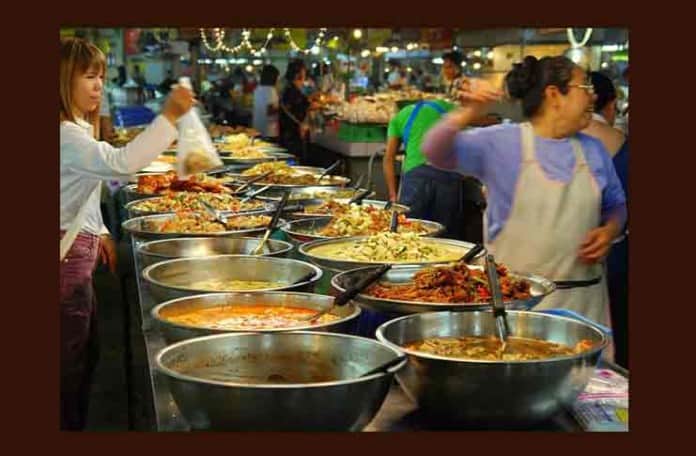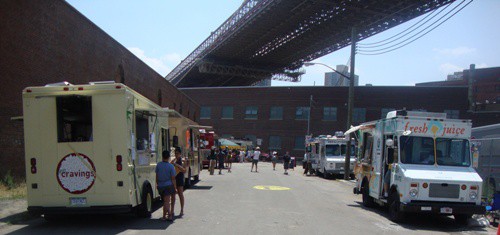 New York Street Food gave away 3 pairs of tickets to the -out NYC Food Film Festival that was held in late June.  One of the winners, Victor, asked if he could write about what a great time he had that day.  Of course!
Victor's funny and entertaining write-up follows.  In addition to the food trucks, he also writes about 3 of the short films, one of which made us laugh out loud.  Click through for Victor's detailed and amusing review.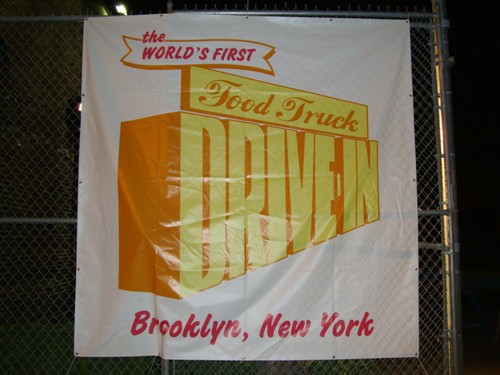 Hello New York Street Food readers! My name is Victor and I was one of the lucky few that won tickets for the World's First Food Truck Drive-in Movie from New York Street Food. I have to be honest; this is the first time I have ever won anything, ever! So can you imagine what my initial reaction was upon reading my congratulatory email? That's right ladies and gentlemen, a full on end zone dance followed by a hard smack back to reality as I noticed that I had just missed the first half of the event.
After checking my watch and realizing that I only had about an hour before the second half, I quickly grabbed my camera and my loosest fitting shorts and bolted to the train station. Along the way I managed to kidnap one of my dear friends who when I explained to him what I had just been blessed with, decided that the World's First Food Truck Drive-in Movie was way more important that some family members baby shower. With baby shower gift in hand, my friend and I were off!
There were many food trucks there but due to financial constraints my friend and I were only able to try a handful of them. We were able to visit the Cooking Channel Truck (which were giving away free icicles from Peoples Pops), the Dominican Soler Red Hook Vendor truck, the Korean BBQ truck called Krave, the Waffle and Dinges truck, and the Van Leeuwen Artisan Ice Cream truck. There were many more familiar trucks there such as the Bistro Truck (my personal favorite) and the Street Sweets truck, but my friend and I figured, "we visit these trucks regularly, let's live on the edge and try something new." And that is exactly what we did.
Upon arriving, we were warmly greeted by many of the staff and volunteers of the Food Truck Drive-in but made a bee line for the Cooking Channel Truck. Not just because it has quickly become my favorite channel but because they were giving away free icicles from Peoples Pops! Who could refuse such an offer, especially when they had amazing flavors such as Plum & Sour Cherry and Chamomile & Apricot. They also had another flavor that my friend and I both agreed was our least favorite; the Strawberry & Rhubarb icicle. It was good but it wasn't as AMAZING as the other two!  Thankfully for us, the People Pops workers changed shifts every half an hour so we were never called out for being gluttonous maniacs any of the 4 times we visited their truck. Great success!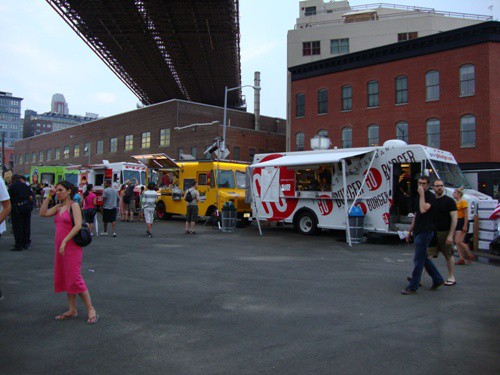 Once we had our fill of icy treats, we made our way into the area that housed the majority of the food trucks. We quickly recognized many of the trucks but singled out the ones we have never seen before like the Domincan Soler and Korean BBQ trucks. The Dominican Soler truck sells Latin American street food but the one item they seem to specialize in is the Pupusa.
Being of South American descent, I have had many a Pupusa. But by far, the Chicken Pupusa from this truck was definitely one of the best I have ever had outside of South America. It was crisp on the outside, moist and flavorful on the inside, and had a chicken filling that was well seasoned and very tasty. It was served with the typical pickled vegetables and sour cream and was very filling for the small price tag it carries.
After we downed our Pupusas, we made our way to the brightly colored Korean BBQ truck, called the Krave. We ordered the Chicken Kimchidilla and the Beef Short Rib Kravers. Before this experience, I have never tried Kimchi but have always wanted to. As soon as I had my first bite, the only thing I kept thinking to myself was "why I haven't tried this sooner?" It was amazing!  The combination of sesame chicken and the tangy kimchi with the crispy tortilla was INSANE!
I was considering getting another one but was quickly stopped by my friend who reminded me that I still had the Short Rib Kravers to try. The Kravers  were just as I imagined, DELICIOUS! They were tangy and very tender and could put any regular old ground beef slider to shame. It was definitely worth me sacrificing my second Kimchidilla. You rock Krave Korean BBQ!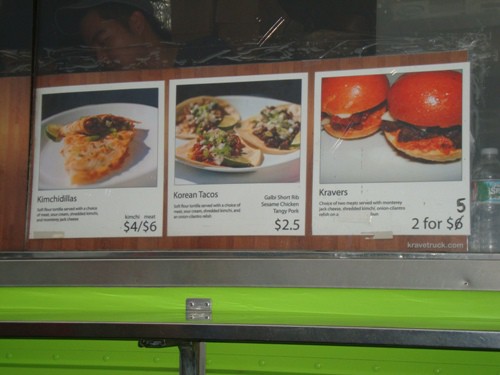 After gorging ourselves with Icicles, Pupusas, and Kimchi it was finally Movie Time! There were 11 short films that were debuted at the Food Truck Drive-in. Out of the 11, there were 3 that we thought were the best. They were: What's Virgin Mean?, Knife Maker, and Urban Farmer.
What's Virgin Mean was a super short (about 2 minutes) but very funny film about a Mother explaining to her young daughter the meaning of the word Virgin. After giving her Daughter a very descriptive and a tad racy description, the daughter proceeds to ask, "So what does Extra Virgin mean?" Classic! The crowd definitely loved this one and got the Food Truck Drive-in off to a great start.
Our second favorite film was entitled Knifemaker. It was a short documentary about a Brooklyn native named Joel Bukiewicz who makes custom chef knives in his workshop in New York City. It was definitely an inspiring documentary because you can really see that this gentleman really enjoys what he is doing. He enjoys it so much that many times his own blood, sweat, and tears go into producing the custom knives, literally.
I wish I had a picture of his bloody hands but unfortunately my camera's shutter speed is way too slow to capture the image. But trust me, this man loves what he does and really got me thinking about my passions and what I am doing to pursue them. Thanx for opening my eyes Joel!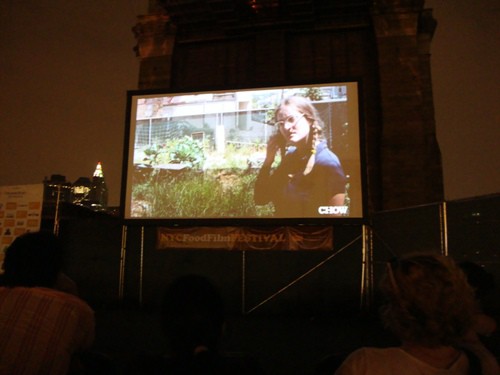 Our third and favorite film was entitled Urban Farmer. It was about a lady named Novella Carpenter who lived in Oakland and was the first person to create an urban farm in her neighborhood. In her tiny backyard farm she was able to raise goats, pigs, chickens, and was able to maintain a robust garden considering she had all that livestock. Impressive Ms Carpenter, very impressive!
This film was very informative and really funny. Who would have ever thought a farmer would be that awesome? The crowd loved her and from what I recall, this film received the most praise once it was over. This was definitely our favorite film from the three we picked.
The Drive-in ended around midnight and we had worked up quite an appetite from watching all those movies. We asked ourselves "how could we end this night right?" After looking around the almost empty lot we came to this conclusion "Dessert!"  The only trucks that were still in the vicinity were the Van Leeuwen Artisan Ice Cream and The Waffle and Dinges trucks.
My friend ordered a liege waffle from the Waffle and Dinges truck and I ordered a Chocolate ice cream cup from Van Leeuwen. It was definitely the right choice and the perfect way to end the night.
My friend raved about his waffle with chocolate sauce and fresh whipped cream so much that he bought 2 more for the long trek home.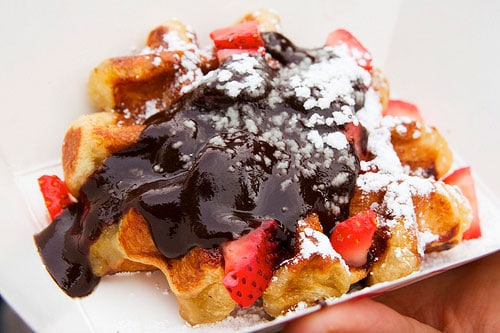 How was the chocolate cup from Van Leeuwen? Well, before anything, let me just say that I am not a big chocolate fan nor do I have a sweet tooth. But once I tasted the Van Leeuwen Chocolate Ice cream, I became a believer and have frequented their truck quite often since that night. It was truly amazing! And what makes it even better is knowing that I can buy their ice cream at Whole Foods! Cant beat that!
Well, I hope you enjoyed my brief (?) review of the World's First Food Truck Drive-in. I hope to see you there next year. I'll be the guy by the free samples. Just kidding! Have a great weekend and support your favorite food trucks or carts! Peace.