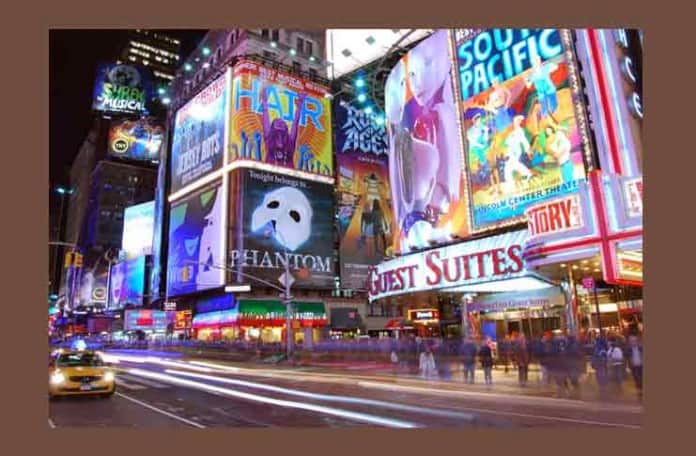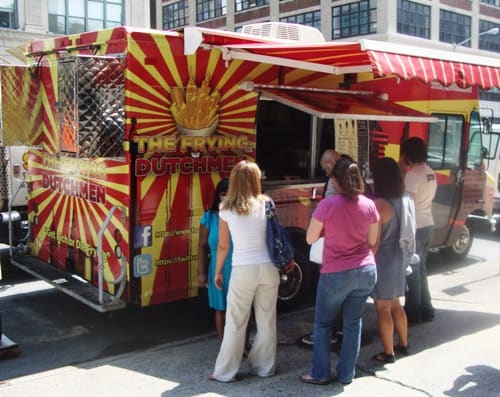 I realize the Frying Dutchmen have been around for a while now, but this was the first time I've been able to get lunch there.
I stopped by the 2nd day they were open, but they were out of food, and said it would be about 20 minutes, which I didn't have.  I tried another time a few days later, but they had already moved to their next spot by the time I got there.
Since then, the Frying Dutchmen have been spending a lot of time in the Financial District, which is difficult for me to get to during lunch.  Finally yesterday, our schedules coincided, and I was able to catch up with them on Park Ave and 26th St.
One reason I didn't worry too much was because I was under the misconception the Frying Dutchmen only served fries.  I read they had both potato and sweet potato fries with lots of cool dipping sauces.  This sounded good, but it didn't seem like enough for a lunch.
When I got to the truck today, I saw they had a lunch combo platter of either chicken tenders or chicken wings with their Belgian-style double-fried fries and/or sweet potato fries.  These come with 1 sauce and 1 drink for $10.
I ordered the combo platter with tenders and mixed fries (half potato, half sweet potato) and thought about sauces.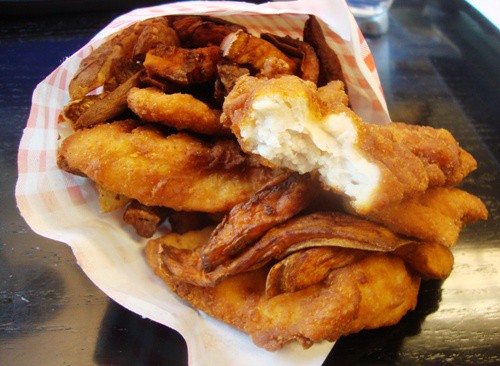 The Frying Dutchmen have 18 rotating sauces on their menu, such as Vampire Repellent, The Big Kahuna, Truffle Shuffle, Locked 'N' Loaded and Guacahummus (huh?).  You can see the entire sauce menu below, but yesterday they had 8 different ones to choose from.
I asked for Upstate (i.e. buffalo sauce) and ordered an extra sauce to try, The Big Kahuna, along with a Coke.  While I was waiting for lunch, I realized that I never get a drink with lunch because we have an ice cold water cooler in the office.  When my name was called about 5 minutes later, I asked if I could have another sauce instead of the soda, and was told yes.  I opted for the Sweet 'N' Spicy sauce.
You can also get ketchup, mustard, malt vinegar or homemade mayo for free.
The fries are loaded into a cone that was about 11 inches long and wide at the top.  It held a lot of food! The chicken was put on top of the fries, and the cone was loaded into a bag with the sauces.
I got back to the office, laid everything out and dug in.  There were 4 decent-sized chicken tenders of all white meat…and they were still hot and steamy.  The first bite with only chicken was good, but the whole point of The Frying Dutchmen is the sauces.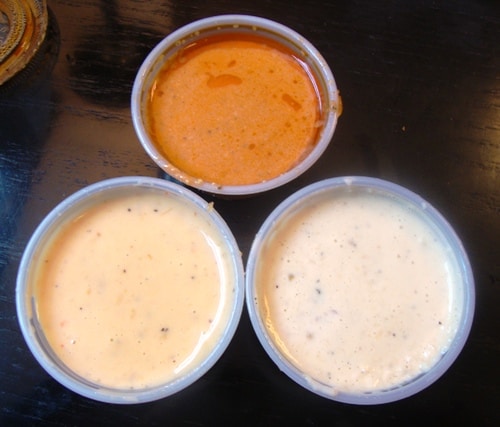 First I tried the Upstate, which was gorgonzola cheese with spicy buffalo sauce.  The sauce had a bit of a kick, but there was plenty of crumbled cheese to counteract the spiciness (which was spicy, but not brutal).  Gorgonzola is like blue cheese on steroids, which I love.  There was more oil than I would have liked around the edges of the container, but the sauce was delicious, especially with the fried chicken tenders.  It was a little strong for the sweet potato fries, but good with the potato fries.
The Big Kahuna was next, which is caramelized pineapple with green peppercorn aioli.  The Big Kahuna had a creamy sweetness, with a mild pineapple flavor that didn't pucker your cheeks.  This sauce went well with the chicken, but was even better with the potato and sweet potato fries.
The Sweet 'N' Spicy sauce surprised me because it was kind of boring, neither sweet nor spicy.  It was creamy with tiny pieces of minced lychee, but it didn't do much for me.
As for the fries, the potato fries were bigger and thicker than most other fries being served by other food trucks.  They are double-fried which gives them a firmness, and this heft is important in standing up to some of these dipping sauces.
The sweet potato fries were smaller, softer and creamier than the potato fries.  They were excellent by themselves, and were good with The Big Kahuna.  The sweet potato fries would go well with most of the fruitier sauces such as the GW (apricot & dried cherry chutney) or The Big Apple Butter (cinnamon maple apple butter).
The Frying Dutchmen serves up some tasty food whether for lunch, dinner, or a snack after a few drinks.  I'm glad to have finally caught up with them, and you can follow them on twitter here, facebook here, and their website is here.