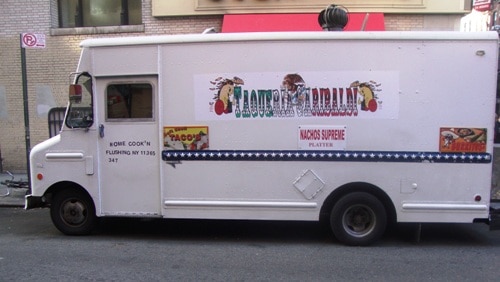 We've noticed a new taco truck around the Village over the past few months called Taqueria Garibaldi. We finally had a chance to go there over the weekend.
Taqueria Garibaldi parks on the SW corner of Thompson St & Bleecker St, in the heart of the Village bar scene. Based on their hours of operation, , and that's the crowd they are going after.
During the week, Taqueria Garibaldi serves from 6pm until 4am, depending on how busy it is. On Friday & Saturday nights, he told us they can serve until 5am, as they did on Saturday night.
We went there on Sunday afternoon, when things were fairly quiet, and ordered two tacos for $2.50 each.
Despite the Italian name (what's up with that), Taqueria Garibaldi is a traditional Mexican taco truck. On the menu, they also have quesadillas, burritos, cemitas, tortas, sopes, tamales and tostadas.
All the tacos are served on two corn tortillas, and come with chopped onions and cilantro. Sliced radishes and lime wedges are also provided on the side.
As for meats, there are the expected carne asada, carnitas, al pastor, pollo and chorizo. They also have a couple of special meats, such as lengua (tongue) and oreja (ear).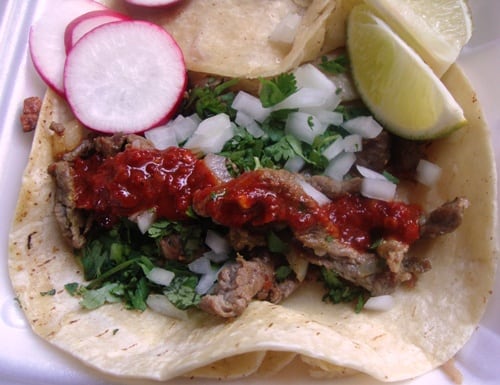 We started with the carne asada taco. It was served with a red salsa that was just about right. It wasn't too hot, but definitely added some spiciness to the taco. The beef itself was ok – not great, but not bad.
In our opinion, the al pastor taco was better. The pork had a nice grilled taste, although it wasn't carved off a spit, as traditional al pastor is.
The al pastor taco had green salsa on top, as well as a chunky pineapple sauce. We expected the pineapple flavor to come through more, but it was still an enjoyable taco. The salsa verde had a small kick, and we would order this one again.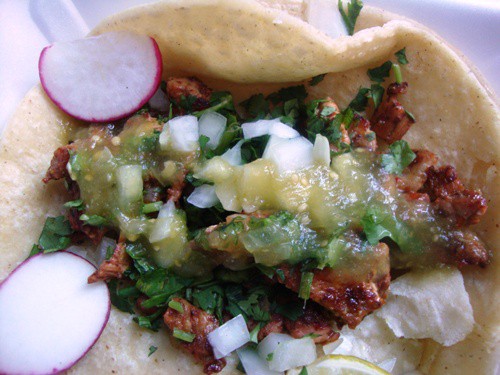 Taqueria Garibaldi