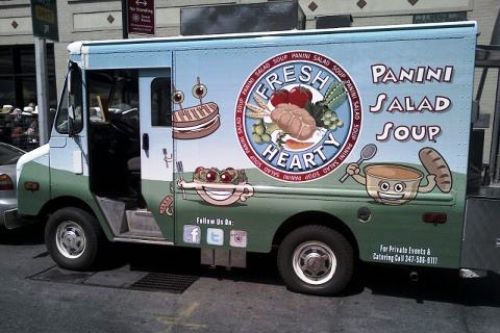 We were up to Panini Sandwich, since we were contacted by a new food truck that debuted over the weekend called Fresh And Hearty. We couldn't make it there Sunday, but were able to stop by yesterday when they were serving lunch on 47th St between Park & Madison.
As you can see from the side of the truck, the menu is panini sandwich, salad and soup.
We opted for the Turkey Muenster Jam Panini Sandwich, which had turkey and a few other ingredients, but no jam. They must have meant jam in the colloquial sense. The panini cost $7, and here is the panini menu.
There were also about half a dozen soups to choose from, and we decided to get a small chicken & dumpling soup for $4.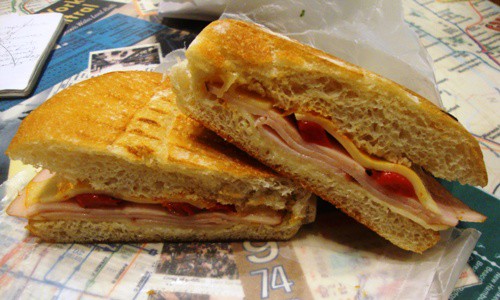 While we were waiting for our lunch, which was only about 2 minutes, we saw their salad setup. This is the only food truck we know of in NYC that tries to replicate the ubiquitous salad bars found at many delis.
We've never been big salad eaters, but there were 28 different ingredients to choose from, plus a dozen dressings on the salad menu.
Unwrapping our pressed panini sandwich, it was still warm. So far, so good.
The bread was nice and toasty, but there were only two slices of turkey and muenster cheese on the sandwich! Didn't they get the memo? This is NYC, not London.
In London, sandwiches have only 1 or 2 slices of meat and cheese, but in NYC, sandwiches are supposed to be t-h-i-c-k!
The taste of the turkey and cheese were fine, although they didn't remove the fat from around the turkey slices, which got a little awkward. Glad we weren't eating this on a first date.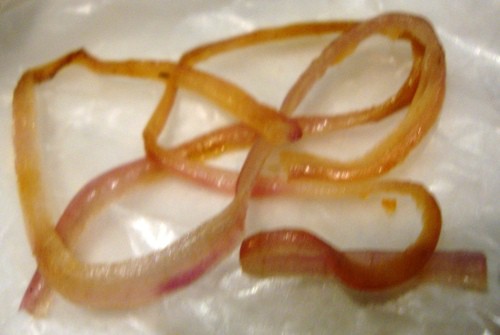 The roasted red peppers added a nice flavor to the sandwich, as did the dijon mayo spread.
The chicken dumpling soup went a little better. There was plenty of chicken, carrots and celery, although the veggies in the soup were very soft.
The dumplings were enjoyable, and the broth was decent, with a nice chicken stock taste. They also get bonus points for including a bag of oysterettes with the soup.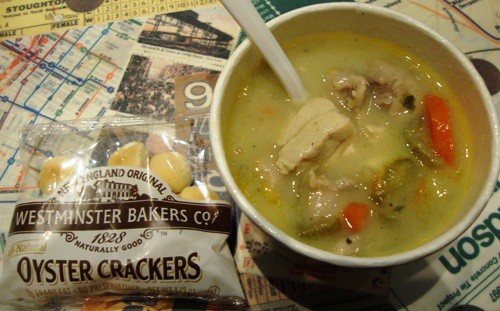 After doing this for 3.5 years, you get a feel for which new food trucks are going to last (Mac Truck, Toum) and which ones are not (Marrakech Chefs, anyone?) Unfortunately, Fresh And Hearty initially strikes us as the latter.
It's not too late though. The soup was ok and the salad bar looked pretty extensive. It's the panini that needs work (meaning a lot more meat and cheese).
You can find Fresh And Hearty on twitter here and on our Mobile Munchies twitter feed. Let us know what you think, especially if you try the salad bar.