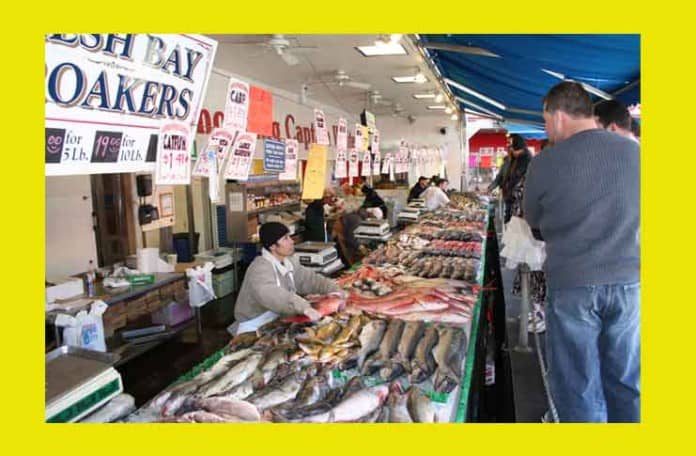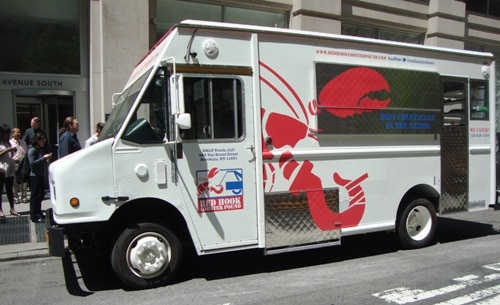 Yesterday was the debut of the Red Hook Lobster Pound Truck (dubbed Big Red), and we were there to check it out.
We got there around 12:45 and the line was about 15 people long, but it moved very quickly.  I had a lobster roll in my hand in less than 15 minutes.
The toughest part was deciding between a Maine lobster roll or a Connecticut lobster roll.  I went for the classic Maine.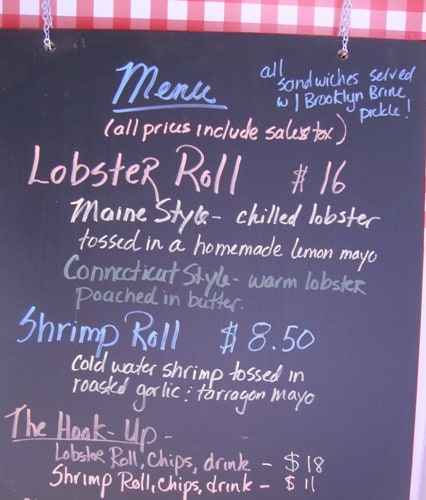 I know it's not necessarily fair to compare the Red Hook lobster roll to Luke's lobster roll, because I didn't compare them when I reviewed Luke's earlier this week – but I'm going to do it anyway.  The reason I'm comfortable with the comparison is because they were both excellent, but there were some differences.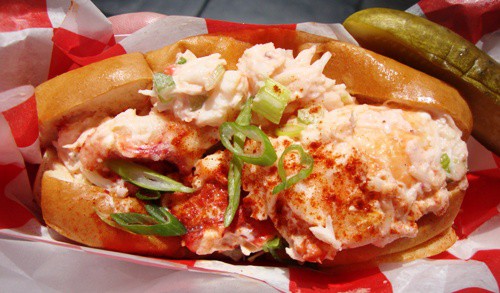 The Red Hook roll had really big chunks of lobster with plenty of (slightly lemony) mayo.  It was placed in a soft, buttery, toasted, top-sliced roll.  The lobster was sprinkled with paprika, and topped with some scallion rings.  Served on the side was half a Brooklyn Brine pickle.
Wow, this was an awesome lobster roll!  It was mainly claw meat, but it was the big, round, meaty part of the claw (the palm), as opposed to the pincer part (the fingers).
As I said, the lobster rolls from Red Hook and Luke's were both excellent, so let's highlight the differences.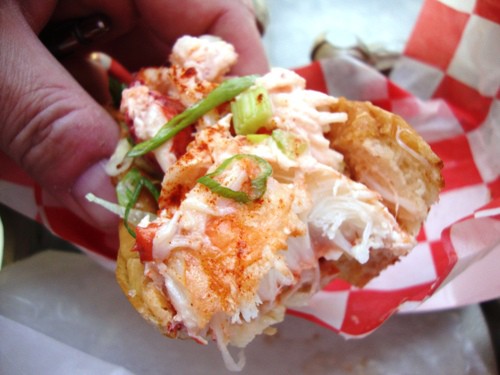 Red Hook's had more mayo and was creamier.  Luke's was topped with herbs like thyme and rosemary, which made it herbier.  Red Hook's was topped with paprika and scallions, which I personally prefer, but I'm sure some people prefer an herby flavor with their lobster.
Red Hook's roll had mostly the meaty part of the claw, while Luke's had some of the meaty part and some of the pincer part.  While I enjoyed Luke's, I have to give the edge to Red Hook on the lobster meat itself.  I ordered anonymously at each truck, so that should not have been a factor.
There's plenty of room on the New York streets for two lobster roll trucks, and they are both excellent. Hopefully, we helped point out some of the differences so you can decide for yourself.
You can find the Red Hook Lobster Truck here and Luke's Lobster Truck here.