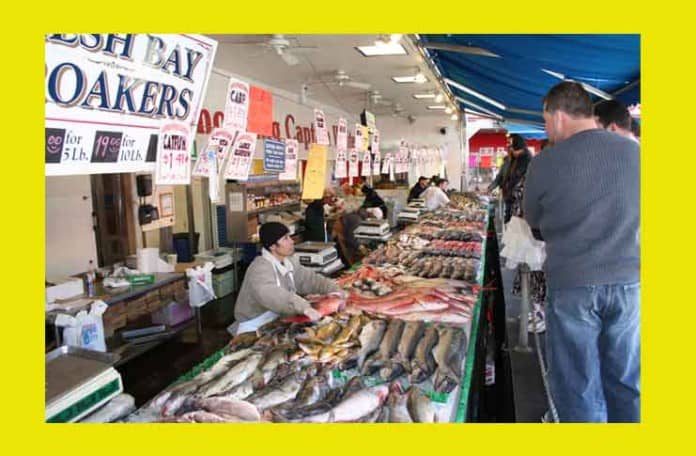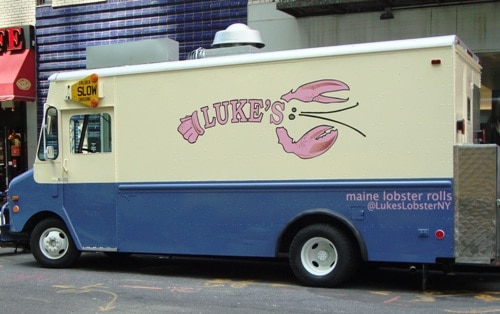 Yesterday was the first day on the New York streets for Luke's Lobster Truck, after giving everyone a preview at the Hell's Kitchen Flea Market on Sunday.  Naturally, we headed over for a NYSF First Look.
We got there around 1:05 and the line was about a dozen deep.  It didn't take us more than 15 minutes to get lunch, which was very reasonable for their first day – but by the time we got lunch, the line was over 20 people long.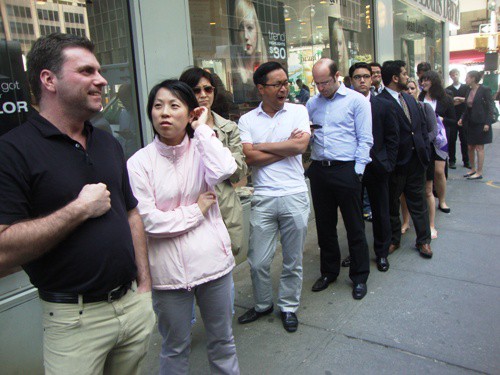 The menu consisted of full and half rolls of lobster, shrimp or crab.  You can read their full menu with prices here – but on their first day out, we had to get the full lobster roll ($16).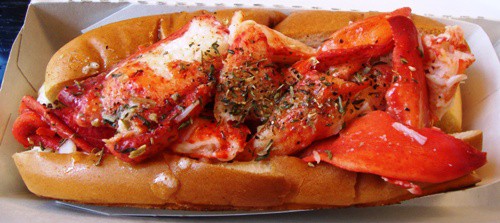 And boy was it full!
They start with a top-sliced, buttery, toasted roll stuffed with claw meat and mayo and topped with herbs.   Two people in front of me asked for light mayo, but I didn't.  There was just about the right amount of mayo for me.
As far as the herbs, I could see thyme and rosemary, and I know some people put celery salt in their lobster rolls, but I couldn't tell whether that was the case here.  Most of the herbs were bunched in the middle of the roll, and I wish they were spread out a little more – but this was still a delicious lunch.
Dipping lobster in butter is a wonderful thing in a restaurant, and a nice, buttery roll is a good way to get that butter flavor into a lobster roll.  It certainly was here.
Yes, this is more than I usually spend for lunch, but it's wonderful as an occasional splurge.  If you get shrimp, crab or half a lobster roll, it's under $10, but half a lobster roll won't be enough for me for lunch.
Even with a full lobster roll, I was hungry by dinner – but that's probably because I kept tasting that delicious Luke's Lobster roll in my mind all afternoon!