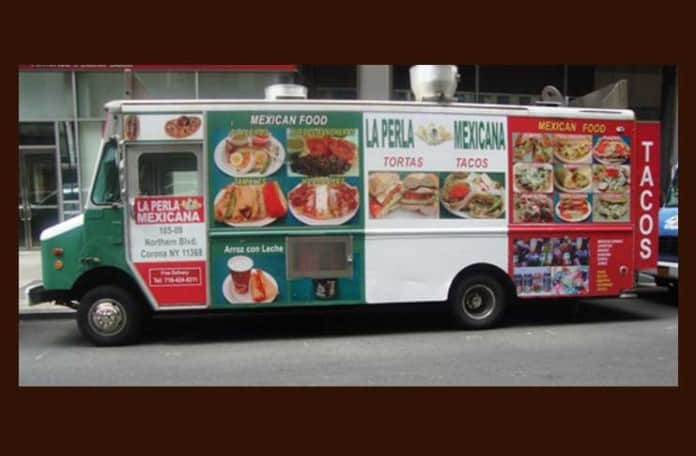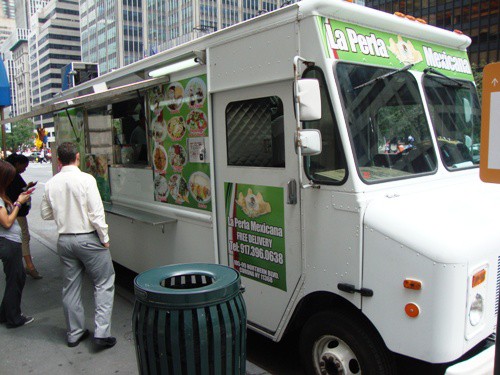 Walking along Park Ave at lunchtime yesterday, we spotted a new food truck on the NW corner of Park Ave & 52nd St.
The sign said La Perla Mexicana, which translates to The Mexican Pearl. Their logo has a pearl stamped with the seal of Mexico in an oyster.
The truck was one of the larger ones on the street, which they must need because the menu was pretty extensive.
The menu runs the full gamut of Mexican food with tacos, burritos, quesadillas, cemitas, tortas and more.
What's just as interesting are some of the ingredients. Of course they have beef, pork, chicken and chorizo, but they also have flor de cabeza (pumpkin flower), nopales (cactus), oreja (pig's ear), lengua (tongue) and a few other less-than-common fillings.
We decided to take a left turn and not get an assortment of tacos or a burrito. Instead, we ordered a mushroom quesadilla for $6. Shout out to our veggie friends!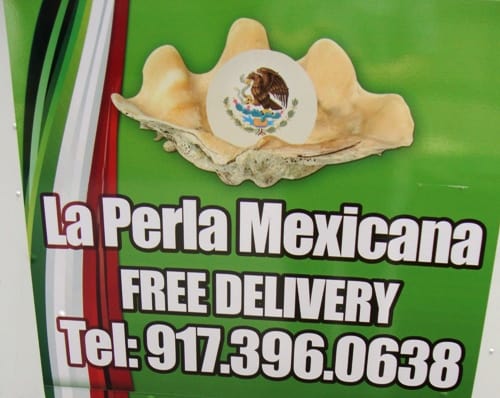 We asked the guy in the truck how long they had been parking at this spot, and were told a few weeks. He told me they are at this spot every weekday until 4pm.
After a short wait, we walked away with a lunch bag that was noticeably heavier than usual, and crossed the street to eat lunch outside on this gorgeous day.
This quesadilla was not American-style Mexican, which are two flat tortillas with cheese and other fillings in the middle.
This quesadilla was Mexican-style, which is a large 10″ tortilla filled with goodies, folded over, and grilled until the tortilla is crisp.
Inside was shredded lettuce, grilled onions, guacamole,  lots of grilled mushrooms, and two types of Mexican cheese.
There was cojita cheese sprinkled on top of everything, like a Mexican version of grated parmesan, but the focus of the dish was Oaxaca (wuh-ha-ka) cheese.
Oaxaca cheese is named for the state in southern Mexico where it originated. It's like a Mexican version of mild mozzarella or string cheese, and boy was this stringy.
We love lots of cheese on everything, and just about every bite had stringy Oaxaca cheese that had to be pulled until it broke. Eventually we realized the best and neatest way to eat it was to twirl the cheese on our fork until it snapped.
The mushrooms had a nice, deep, dark, mushroomy (umami) flavor.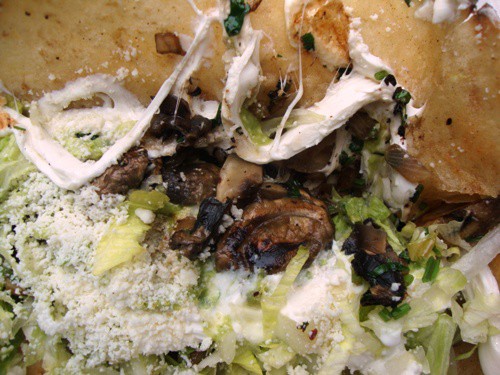 The guacamole rounded out the dish nicely, adding a little creaminess and of course the taste of avocado.
The hot sauce was also a step above the usual. This is a weird thing to say about a hot sauce, but it was "meatier" than most hot sauces. It wasn't just the thickness and spiciness, there were a bunch of different ingredients visible within the hot sauce.
La Perla Mexicana was a pleasant surprise along the Park Ave food truck corridor of 47th-53rd St. Sometime Paty's Tacos parks around there, but we have to say, this was better.
We cannot find a website, twitter or facebook account for La Perla Mexicana, but were told they park every weekday on the NW corner of 52nd St & Park Ave.
We'll definitely be going back to try a few other things on that large menu.