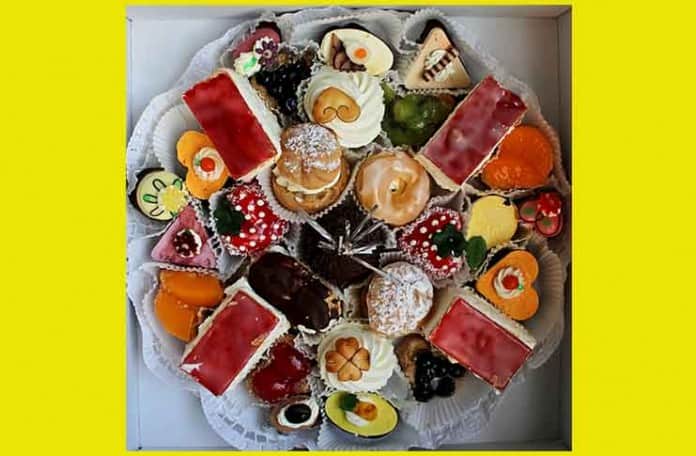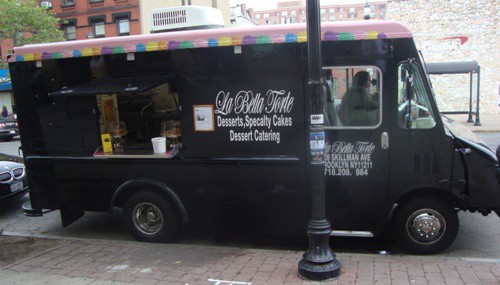 After enjoying a wonderful lunch from Two Pitas In A Pod on Saturday, we wandered over to Washington St, which is the main street of Hoboken.  Parked between 3rd & 4th St was La Bella Torte, an Italian dessert truck.  We had a Dessert Alert after hearing about them, but this was the first time we had a chance to try them ourselves.
The menu changes from day to day, and on Saturday they had large and small cannolis with a choice of regular or chocolate chip filling, gelato, banana nutella cake, devil's temptation cake, and the cake that won them acclaim on the Next Great Baker show on TLC, rosemary olive oil cake.
On the front of the truck is a quote from The Godfather, "Leave the gun, take the cannolis", so a large cannoli ($4) was first on my list.  Joe suggested that I try the rosemary olive oil cake ($6) as well.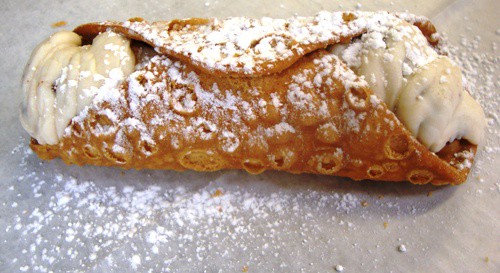 In the cannoli, I opted for the chocolate chip filling, which Joe squeezed fresh into the pastry shell.  He then sprinkled some confectioner's sugar on top.  Some people, like my father-in-law, will only eat cannolis if they are freshly filled.  I totally understand.
The thick, creamy filling was awesome.  And there was some nuance to it, with what tasted like a hint of nutmeg in the cream filling.  Most bites had chocolate chips too.  Excellent cannoli, Joe.
A rosemary olive oil cake didn't sound all that appealing to me at first, but my wife wanted to try it, and Joe suggested it too.  I usually associate rosemary and olive oil with chicken, not cake, but this was superb.
You could definitely taste the olive oil and rosemary, but it was in a dessert cake setting.  Unusual, but definitely good.  The cake was moist and had some sweetness, but was not nearly as sugary as most cakes.  I wouldn't call it a savory cake, it was still dessert, just not a dessert I'm used to having.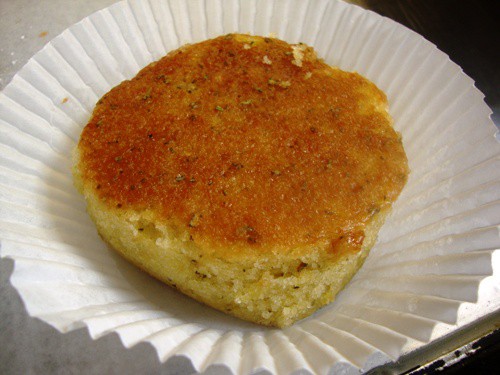 Sometimes it's good to broaden your horizons, and the rosemary olive oil cake did just that.  I already knew that I loved fresh cannolis.  Now I know that rosemary olive oil cake can be really good too.  At least Joe's was!
La Bella Torte is at the weekly Groove On Grove event during the summer.  if you enjoy Italian pastries and desserts, check them out.  You won't be disappointed.
You can find them on facebook here, twitter is here, and their website is here.