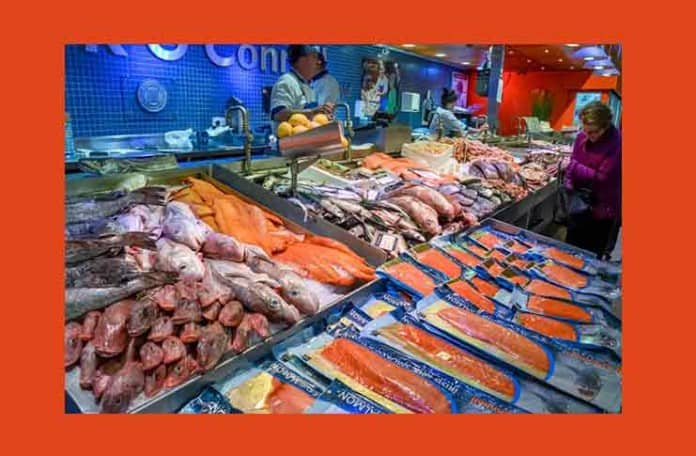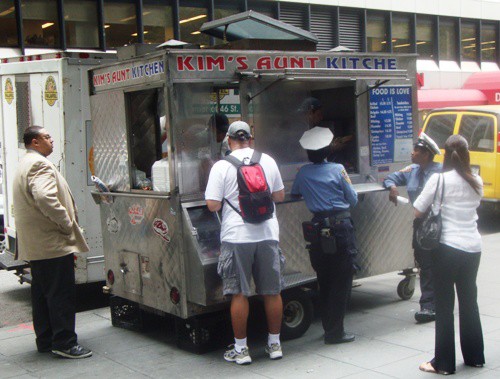 After enjoying the fish encebollado yesterday from El Guayaquileno, I had a craving for fried fish.  Kim's Aunt Kitchen on 46th St between 6th & 5th Ave is one of my go-to places for fried fish sandwiches and platters.
Today's Lunch is a fried flounder platter ($6.50), but they also have flounder sandwiches for $5.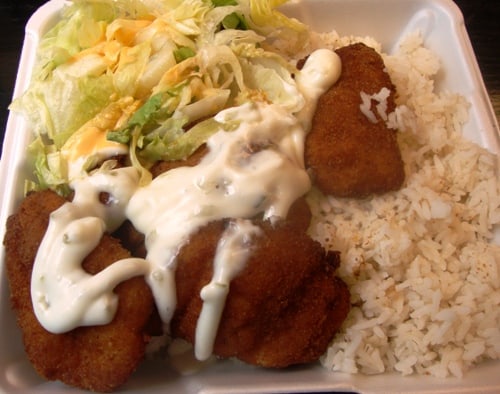 Platters come with a choice of white rice, fried rice, lo mein or french fries.  Their fries are decent, but I didn't want any more fried food today. From past experience, I've found their lo mein and fried rice to be a bit oily, so I went for white rice.
The platter came with 6 pieces of varying sizes of fried flounder.  Each piece was nicely fried, and the fish was flaky and moist inside.  Some tartar sauce on top, and I was a happy man.  Six pieces was a nice amount for lunch, although the photo looks like less.  Two pieces were actually underneath the lettuce.
The white rice was fine, if unexceptional, and the salad was basic, with lettuce and tomato (which I declined), an a basic French dressing.  You don't go to Kim's Aunt Kitchen for the side dishes, you go for the fried fish.
They also have bulgogi (Korean bbq beef) on the menu, but if you want bulgogi, I would suggest Bapcha 3 blocks up on 49th St.  It's a couple of dollars more, but much better.
However, if you want fried fish, Kim's Aunt Kitchen is tough to beat for an inexpensive, good fried fish sandwich or platter.