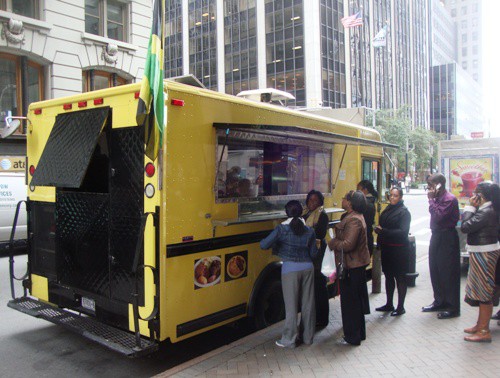 Ever noticed your Jerk Chicken Sauce? well, sometimes it can really make the difference.
We've been spending a little more time in the Financial District for lunch lately, and ran across Sunrise Grill by Wall & Water St last week.  The guy on line in front of me said they usually park by 125 Broad St, but someone important was in town (Prez?) and that block was closed for the day.
We first saw Sunrise Grill at last year's Taste of the Parks event, where the NYC Parks Dept introduced the public to some of the new vendors given contracts to serve in various city parks. Unfortunately, they ran out of food early that day, but we did get a chance to try their food at the 2011 Vendy Awards, where they were Rookie of the Year nominees.
The guy in front of me seemed like a regular, so we asked him what he recommended. If we like spicy food, he said the jerk chicken. The only remaining issue then was small, medium or large for $8, $10 or $12. We went for medium.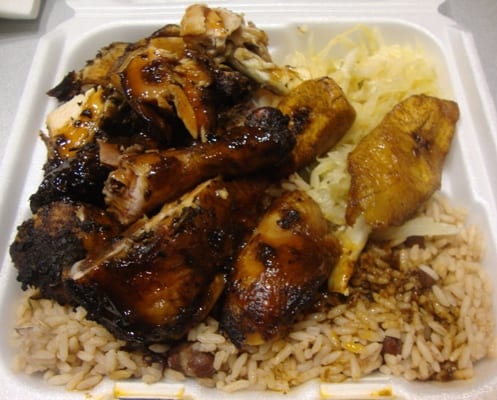 We watched the chef hack apart a large piece of jerk chicken with a cleaver. It was then put into a styrofoam container with  some side dishes, and topped with a liberal amount of  Jerk Chicken Sauce.
Opening up the container, there was a lot of food. We should have guessed, based on the weight of the bag we were handed, but were still a bit surprised.
There were about 6 pieces of jerk chicken atop rice and beans, with steamed cabbage and a couple of fried plantains for dessert on the side.
The chicken skin was blackened, and underneath, the chicken had a bit of a smoky flavor.  It tasted like it was probably grilled over charcoal, and was definitely grilled over flames.
The chicken was good, but what really made it was the sauce. The Jerk Chicken Sauce was fruity spiced well, with allspice, cloves and cinnamon (we guess). The jerk chicken wasn't particularly spicy, but it was delicious.
The rice and beans were also good, and again, made even better by the sauce that dripped off the chicken.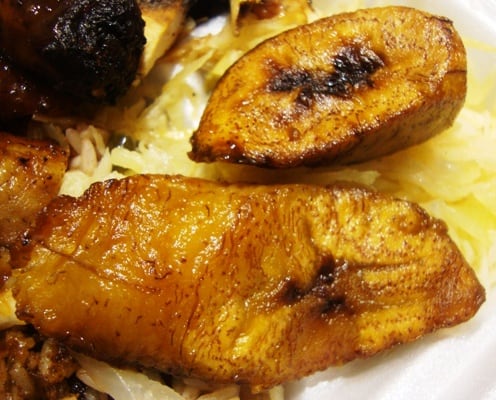 To be honest, we didn't try the cabbage, but the two pieces of fried plantain were a nice way to end the meal.
Sunrise Grill doesn't seem to have a website or twitter account, but you can find them most days by 125 Broad St in the Financial District. At one point, they were serving lunch in midtown, but that was when the police were doing a lot of ticketing, and they haven't been back since.
In addition to jerk chicken, there was curry chicken, oxtail, curried goat and a few other Jamaican specialties. Now that we know where to find them, we hope to try a few more things from the Sunrise Grill.