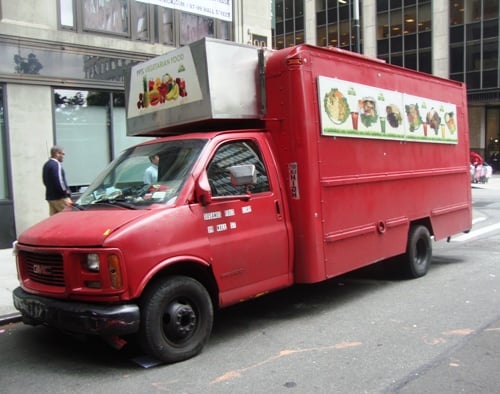 One of the odder food truck names in NYC is the 99% Vegetarian Food Truck. What's that about? If they're a vegetarian food truck, why are they throwing a bone to carnivores?
We stopped by the truck recently, and what it means is they are basically a vegetarian food truck that serves one chicken dish. While that may sound odd, my nephew considers himself a vegetarian, but he will occasionally eat chicken. As my sister says, "whatever floats your boat". No need to get caught up in labels.
The 99% Vegetarian Food Truck started as a cart in midtown near Rockefeller Center towards the end of 2009. They were a nominee in the Vendy Award Rookie of the Year category in 2010, and moved permanently downtown at some point during 2010. These days they are on the corner of Wall St & Front St in the Financial District, outside 99 Wall St.
A combination lunch platter costs $6, and you get to choose 4 different items from about 12 different food items offered on the menu. Guess 1 out of 12 makes them more like the 92% Vegetarian Food Truck, rounding up of course.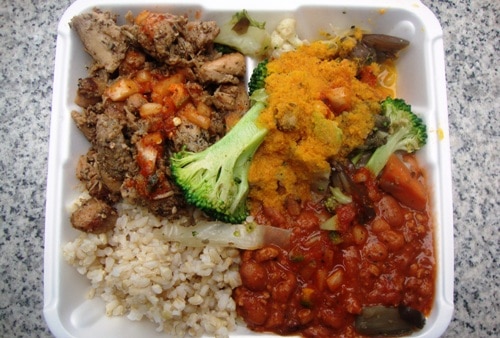 On Mon, Wed & Fri they have vegetarian chili, which was our first choice. We got some brown rice to go with the chili, steamed veggies, and and we had to try that chicken. Was it worth 8% of the menu?
The chili was very hot, so we started with the chicken in order to not burn our mouth.
To be perfectly honest, the chicken reminded us of the chicken served at the various halal carts around town. It was even a little saltier than we like, just like at the halal carts.
They put hot sauce on the chicken at our request, which had diced onions in the mix. That helped make the chicken more to our taste.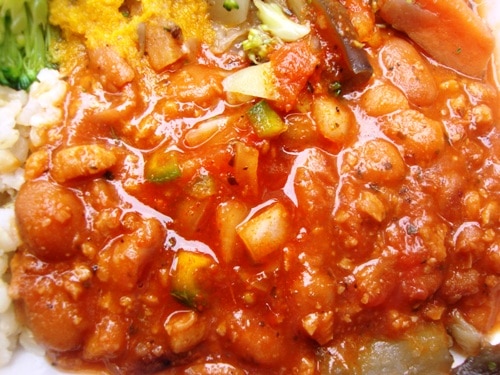 The vegetarian chili fared better. There were plenty of beans, onions, peppers and a few other tidbits. We assume what looked like small pieces of ground beef was tofu. It was all cooked in a sweet tomato base, and with all the herbs and spices used, it was a pretty good vegetarian chili.
We ended up mixing together the chili and brown rice, and it was a good combination. The rice was cooked well, and in our opinion, the brown rice was a better choice than the usual white rice you get with chili. It was a little stronger in taste and texture, and stood up to the chili better.
Moving on to the steamed veggies, they still had plenty of firmness, even as it was our final dish. The veggies included broccoli, cauliflower, carrots, mushrooms and eggplant, and it was topped with a lemon carrot ginger sauce made from pureed carrots.
We expected more of a zing from the ginger, but this was still a healthy and tasty course. The steamed veggies almost served as a palate cleanser after the chicken and chili.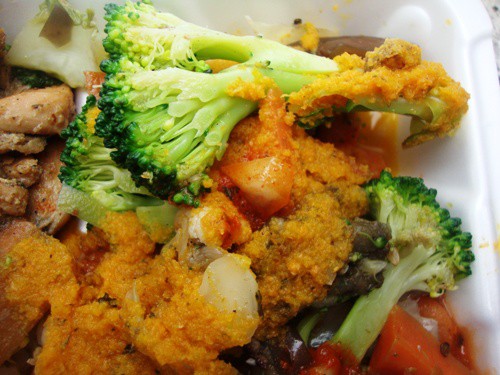 The 99% Vegetarian Food Truck does not seem to have a website or twitter account, but they are parked every weekday for breakfast and lunch on the corner of Wall St & Front St.
We're not planning to go downtown for breakfast, but if you're already there, the hot oatmeal with raisins and apple (or banana) sounds like a good way to start the day during the cold weather.