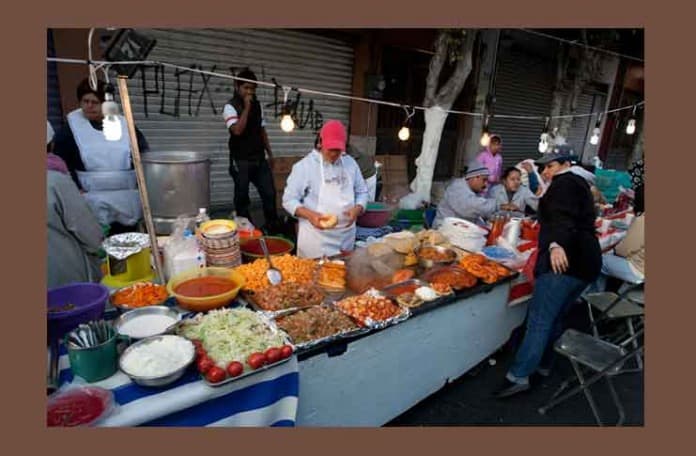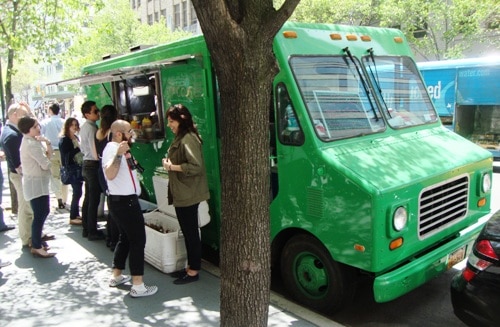 There's a new taco truck in town – the Jalapeno NYC truck.  They were mentioned by Fork In The Road last week, and Friday they were literally 2 blocks from where I live in the West Village.  The truck doesn't have any fancy artwork on the side, but it is easy to spot – it's painted the same color as a jalapeno.
The menu is written on the side of the truck, and it's Mexican street food like tacos, burritos, quesadillas, cemitas, and tamales.  However, the breadth of meats offered is pretty wide.  In addition to beef, salted beef, chicken, pork, spicy pork and chorizo, they also have steamed goat, tongue, and spicy pig's feet marinated in vinegar.  They also have a vegetarian option with peppers, onions & mushrooms in a taco, burrito or quesadilla.
I got a selection of 3 tacos – al pastor ($3), beef and chorizo ($2.50 each) for Today's Lunch.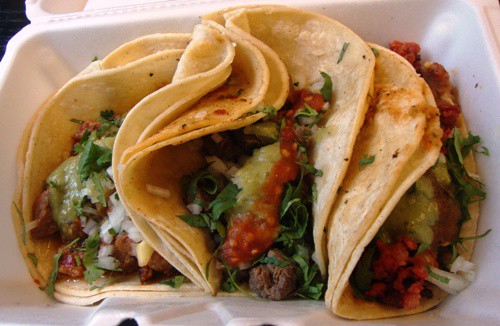 Before we get into the food, here's some background on the Jalapeno NYC truck.
The Jalapeno NYC truck has been operating for one month, and the main guy behind Jalapeno NYC is Chef Matias Delsart.  Chef Matias is a native of Buenos Aires, Argentina whose ancestry is Spanish, Italian and French-Basque.  He has twenty years of experience in different cuisines, and for the last ten years has been in NYC, where he learned authentic and traditional Mexican cuisine by working along side his co-workers, who are predominantly Mexican.
While I was waiting, I munched on a pickled jalapeno, a container of which was out by the serving window, along with some fresh limes.
I know they have only been out a month, but one thing they need to get down better is efficiency.  It took over half an hour from getting on line to walking way with my lunch.  There were only 2 guys in the truck, and Chef Matias took orders, handled money, topped the tacos with onions, cilantro and salsa verde, and wrapped each order.  I would say they need a third person in the truck.
Every taco was double-wrapped with 2 tortillas and topped with raw onion, fresh cilantro and a mild, creamy salsa verde.
The chorizo taco was very good.  The chorizo was smokier than other chorizos I've had, and it wasn't too fatty.  I put some habanero salsa on the chorizo taco, which added some serious heat, and the chorizo was already fairly spicy by itself.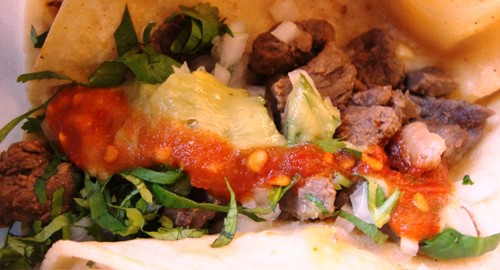 Next up was the beef taco, which had chunks of tender beef.  It wasn't ground or shredded beef, and I enjoyed it, especially with some red salsa I squeezed on before leaving the truck.  The red salsa is hot too, but not as hot as the habanero salsa.
The last one I tried was the al pastor taco, which had spicy pork and pineapple.  I know some people get all nuts about whether an al pastor is made the traditional way.  I can't say whether this was or not, but it was tasty.  Spicy pork and pineapple are a great combination, and this taco was no exception.  It was a little more liquidy than the other tacos because of the pineapple, but that's a trade-off I'll take any day.  I like pineapple that much, and would have liked even a little more pineapple on the al pastor taco.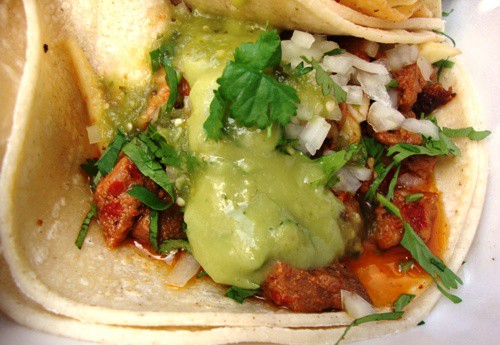 The Jalapeno NYC truck is a nice addition to the New York Street Food scene.  The service is still a little rough, which would probably be helped by another person in the truck – but the food is fresh and tasty.
We will add Jalapeno NYC to the New York Street Food map, directory and Mobile Munchies twitter feed. You can follow them on twitter here.