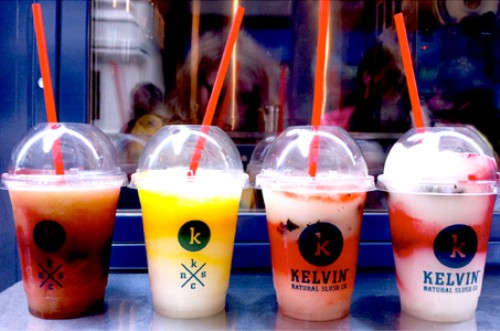 Kelvin Slush Whole Foods officially announced? The BIG announcements from our friends at Kelvin Slush keep coming!
First they show up all over Madison Square Garden…with booze in their slushes.
Now Kelvin tells us they will be in a bunch of Whole Foods stores, with the official start date of Monday. Until then, there will be soft openings at some of the stores. In fact, the Union Square Whole Foods already has the sign below out.
You can shop and slush at the same time, although without alcohol. No drunk shopping allowed at Whole Foods! Hockey games are another story.
Click through for the details of which Whole Foods stores will have them first.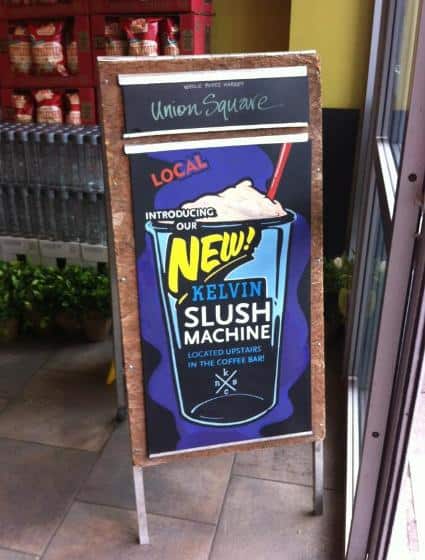 Officially starting March 18, the Whole Foods Markets stores in Union Square, TriBeCa, Paramus, NJ, and Darien, CT will be serving 2 flavors of Kelvin Natural Slush Co. slush at their coffee counter.
The first 2 flavors being featured are a Strawberry Lemonade featuring Kelvin citrus slush and real strawberry purée and a White Peach Half & Half featuring Kelvin tea and citrus slush (aka Arnold Palmer) and real white peach purée.
Starting today, Kelvin co-founders Alex Rein and Zack Silverman will be making appearances at each of the 4 stores over the weekend to officially kick off this partnership between the Vendy Award winning food truck and one of America's top grocery chains. Alex and Zack will be at the Union Square and TriBeCa locations on Friday, Paramus on Saturday and Darien on Sunday.
In addition to the 4 locations opening Monday, Kelvin Slush will be featured at the upcoming Smorgasburg Snack Bar launching on April 1 at the Whole Foods Market Bowery location.
This Whole Foods program marks the continued evolution of the Kelvin Natural Slush Co, which we all know started as a food truck in 2010, into a primarily wholesale business.
Don't worry. Starting April 1st, the Kelvin Slush truck will be back on the NYC streets, and they will be resuming their regular presence at the Brooklyn Flea's Smorgasburg when it re-opens for the season in April.
We can honestly say we knew Kelvin when they were little pups with just one Kelvin Natural Slush truck. Now they are Titans of Industry.