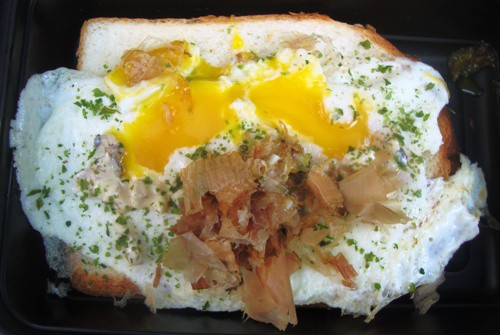 Ever had Street Food Breakfast? We usually focus on the huge variety and quality of street food lunches, but if you want to start your day right, there are great breakfasts available too.
We tried 3 different Street Food Breakfasts last week featuring 3 totally different cuisines: Jamaican, Japanese and Mexican…and they were all within 10 blocks of each other in midtown.
The first place I tried was the Jamaican Dutchy truck, who park on the SE corner of 43rd St & 3rd Ave, a block over from Grand Central. They serve traditional Jamaican breakfasts starting at 8am. Many are based around fish, but if fish isn't your thing, they also have a different porridge each day (banana oatmeal, peanut, plantain, etc), as well as dumplings.
I placed an order for saltfish plus dumplings, which are nothing at all like the dumplings you expect. It cost $6.50 for this Street Food Breakfast.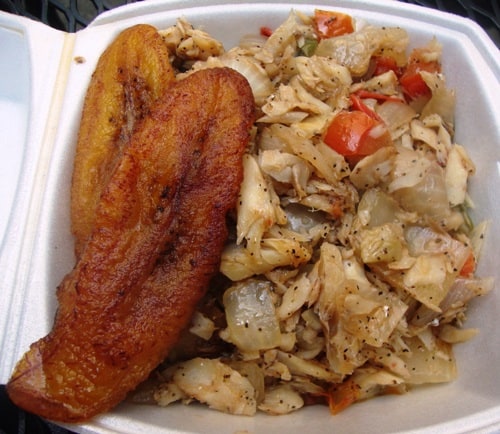 Contrary to its name, the saltfish was not especially salty. In fact, it was on the mild side for fish. The dish was loaded with cooked onions, some bell peppers and a few herbs. Despite my description, this was not too strong a taste for breakfast, although there were a lot of onions.
The plantains were delicious after the saltfish, more like a dessert. They were soft and sweet and slightly candied.
The dumplings were 3 large fried dough balls. I kind of expected the dough to be sweet because they reminded me of zeppoles, but the dough was not sweet. It was crispy outside, bready inside, and there was no way I could eat 3 of these after the saltfish and plantains. I ended up giving two of the dumplings to a homeless guy, who was very appreciative.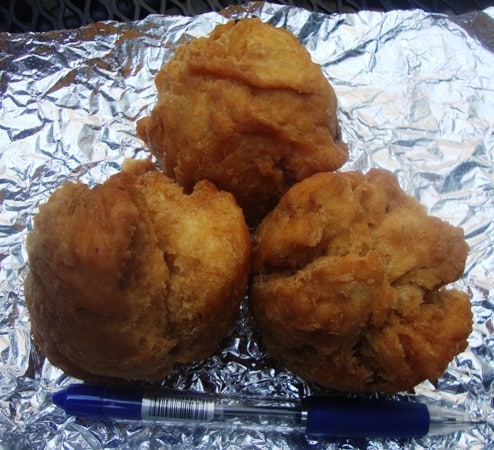 The second breakfast I tried was from Okadaman, who specialize in okonomiyaki, that eggy pancake we reviewed a couple of weeks ago. They have been parking every day on 48th St just east of Park Ave, although I hope they start trying other areas so the rest of the city can enjoy them too.
Okadaman started serving breakfast recently, and you can get two eggs over easy on toast with one of two different toppings. The dishes cost $3.50, and you can get it with a can of Japanese coffee for $5. Yes, I said a can of coffee.
You can get the egge okonomiyaki style, which is with brown okonomiyaki sauce, nori (dried seaweed) and bonito (tuna) flakes. The other style is with Japanese mayo and spicy fish eggs. Japan, like Jamaica, is an island country, so fish is a large part of the diet, even for breakfast.
The toast was a thick piece of bread lightly toasted on the grill, and the eggs were perfectly done for maximum yolkage. It wasn't really fishy until I got to the bonito flakes, at which point it was. I like fishy, and with egg yolks, it was different from eggs I've had previously.
The last place I tried was Eggs Travaganza, a Mexican cart on the NE corner of 52nd St & Park Ave. They originally served only breakfast, then expanded into lunches a couple of years ago. They had an egg, turkey, spinach & avocado on multi-grain bread that looked good, but I went for cactus and egg tacos for $3.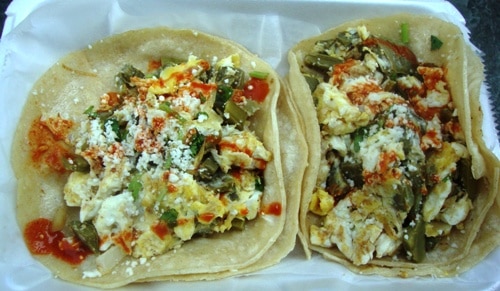 You can tell this is a traditional Mexican cart because Arturo uses two tortillas for each taco, which imparts a nice corn flavor, and keeps the tacos from breaking apart as you're eating.
If you haven't had cactus before, it's similar in texture to a broccoli stalk, but milder and without the bitterness that broccoli can have. It was a good choice to scramble with eggs and crumbled cojita cheese. Hot sauce on top added some heat and pulled it all together.
One of the best things about New York City is the international aspect. It's truly a world-class city, like London or Paris. We went to Jamaica, Japan and Mexico for breakfast without leaving a 10 block area of midtown, and that's only a small sample of the offerings available in this great city.