Yesterday we saw the following tweet from our friends at Itizy Ice Cream, who the sharp-eyed NYSF reader @Moneymaus tipped us off to last summer.
Itizy Ice Cream Getting prepped for a new fantastic season! Check out our new website and flavors. Kicking off the season tomorrow @ Columbia 🙂
Turns out the tweet was a little off base. Another NYSF reader @Out4LunchBlog saw them by Columbia University yesterday and sent us the photo below of their Cookies & Cream flavor. How did they know Cookies & Cream is one of our favorite flavors?
Itizy has a bunch of new flavors this year, and some interesting way to deliver them, such as ice cream pops.
Click through to see what some of their new flavors are.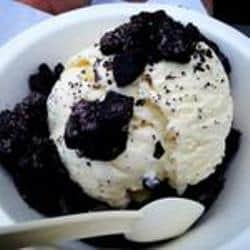 Don't forget that for every 5 scoops purchased at Itizy, one meal will be purchased for a child in need in their Scoops For Meals program. What better reason do you need to eat ice cream?
You can follow Itizy on twitter here or on our Mobile Munchies twitter feed. Ann from Itizy told us last year that she used our Mobile Munchies twitter feed when they were researching where to park. Glad we could help.
Oh yeah, here are the new flavors. Can't wait to try them!