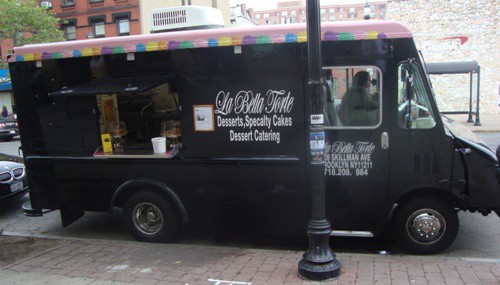 What a beautiful day! Make sure you get out and enjoy great New York Street Food from the vendors on the right and the trucks below.
As always, make sure to check our Mobile Munchies twitter feed before heading out, in case anyone had to move at the last minute.
bongobros Water and broad st. From 11:30 till 3:00 !!!
morristruck MorrisGrilledCheese Hey Chelsea! We're hanging on 6th and 19th today from 11:30-3. Come grab some good grub!
waffletruck Fantastubular Friday! Le Truck is on 49 & 3 til 4:28pm. Tell us a riddle for 1 free dinges. Aaaannnnnd…..CARTS! Le Goesting is on 52 btwn 6 & 7 til 5:47pm Le Bierbeek is at Columbus Circle til 7:59pm Aaaannnndd…Le Vedette is on 60 & 5 til 7:59pm Le Kotmadam is at le Great Lawn til 7:59pm ALLEZ! Aaaaaannnddd… Don't forget our friends at the Madison Square Market on 22 & Broadway! There from 11am-8:57pm
EddiesPizzaNY Today we r on hudson/king for lunch and upper west side @66th/broadway. Tribeca is closed for a private event
bongobros Heading down to FiDi ,Eta 11:30!!!
bigdsgrub Lunch time grub will be ready at 11:30 @ 53rd & Lex! RT @prateekrungta: @bigdsgrub you guys still swinging by Lex today?
fritesnmeats HELLO FIDI..lunch 2day @ 10 Hanover square, Burger of the week THE MEXICANA. preorders r available @ 9172929226 #mobilesecret
Frying_Dutchmen We will be on Water and John for lunch