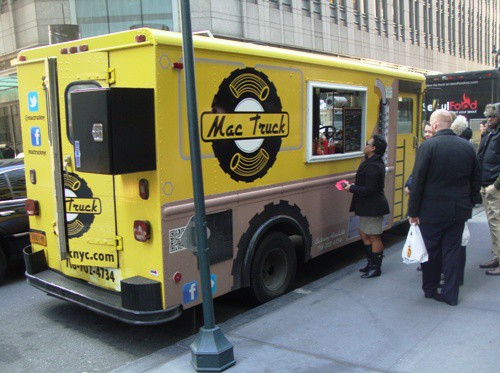 Just by the name of the dish itself, White Truffle Mac and Cheese – we think gourmet. Well, as we mentioned last week, the Mac Truck acquired 3 white truffles to serve to their customers. We weren't going to try it because we don't consider ourselves to be "gourmet", but changed our mind at the last minute. It's not everyday that you get an opportunity to try something that sells for over $6,000 a pound!
Dom, the owner of the Mac Truck, recommended grated Parmesan and toasted bread crumbs as additional toppings. It's usually a good rule to listen to recommendations from chefs, especially when trying something new.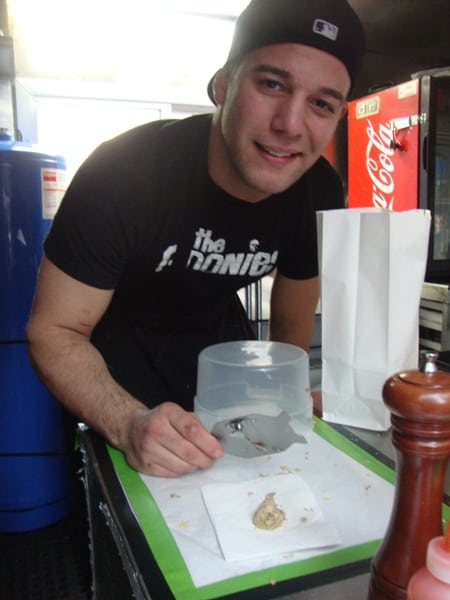 We got to the Mac Truck around 1:15, and there was a line of about 15 people. There were 4 other food trucks on the block, and no one else had a line of more than 3 people. Dom was already down to his last truffle, so it looked like the experiment was a success.
After putting together a mac & cheese with Parmesan cheese and toasted bread crumbs, Dom cut about 8 thin slices of white truffle, and laid them on top.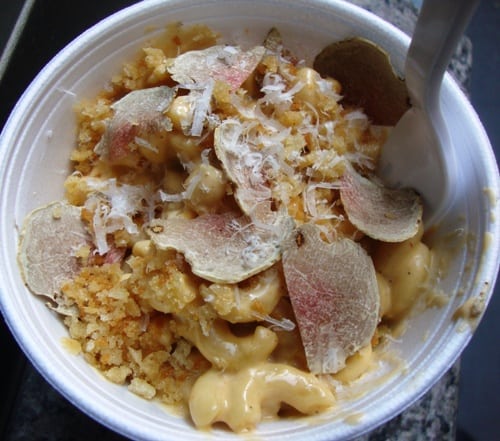 This was our first time trying White Truffle Mac and Cheese, and we were surprised by the coloration. From the outside, the truffles looked like potatoes, but once sliced, they were more like slices of steak, with red (rare) towards the center and extensive marbling.
The truffles had a strong, but not overpowering, woodsy smell. As for taste, the slices were thin and somewhat papery, with a delicate umami flavor. A little bit went a long way, and the bites with truffle worked well with the somewhat pungent cheese sauce.
Was it worth the money? That's something everyone has to decide for themselves. We found it to be an interesting experience, but probably not something to do regularly. At over $6,000 a pound, that won't be a problem.
Although the truffles are gone, Dom told us he was going to use the leftover shavings to make truffle oil. Dom also told us he was going to offer the truffle oil for lunch free of charge! Now that's what we call taking care of your customers.
The Mac Truck moves around between various neighborhoods in midtown and downtown, so find them on Twitter here or on our Mobile Munchies twitter feed. That's the best way to keep up on their specials, such as white truffles.