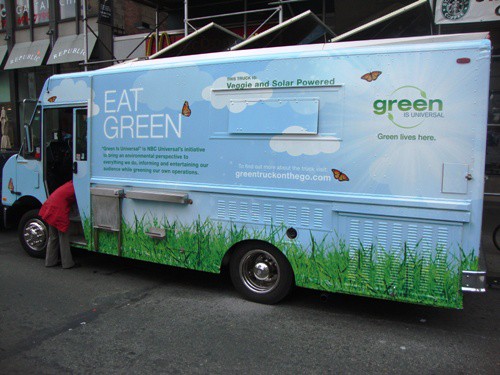 Green Food Trucks in New York? About 2 weeks ago, there was a big hubbub in the press with the unveiling of Neapolitan Express.  Mainstream media outlets were calling them the city's "first green food truck". A noble pursuit, but Neapolitan Express weren't exactly the first.
The mainstream media doesn't know food trucks like we do. Not to take anything away from Neapolitan Express, who are doing something very good, but we  have enjoyed food from 2 other green food trucks in NYC over the past few years.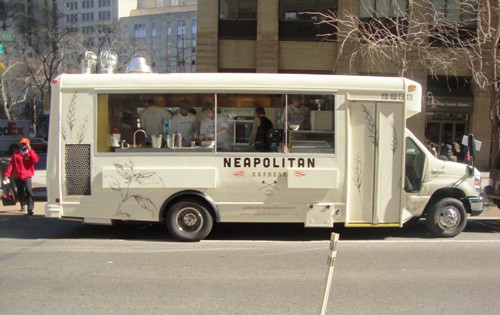 Neapolitan Express is the first food truck in NYC that runs on compressed natural gas, which produces almost 75% less greenhouse gas emissions than food trucks that run on gas and diesel. Very nice!
Two other green food trucks we know of ran on bio-diesel, which is basically used cooking oil.
People who have been following food NYC trucks for a few years may remember the Green Truck. They were a vegetarian truck that ran on the previous day's vegetable oil.
We first saw the Green Truck at the 2010 NYC Food Film Festival, but they were only around NYC for a year or so. They started in LA, moved to NYC for a year, and have been back in LA ever since.
Max Crespo, the owner of Neapolitan Express, told us that bio-diesel doesn't work as well in cold weather, as it thickens and coagulates. This may have been another factor in the Green Truck's return to LA.
Last year, the Snap Truck, who served Chicago and other style hot dogs and burgers, also ran on bio-diesel from used cooking oil. This led to one of our favorite slogans on the Snap Truck t-shirt – "Fueled By Fries".
Just like food trucks themselves, we hope this is not just a trend, but a shift in the food truck landscape. Three may not make it a seismic shift, but anything that is less destructive to environment is good by us – especially if it serves delicious street food!
Make sure you check back around lunchtime for our First Look at Neapolitan Express.