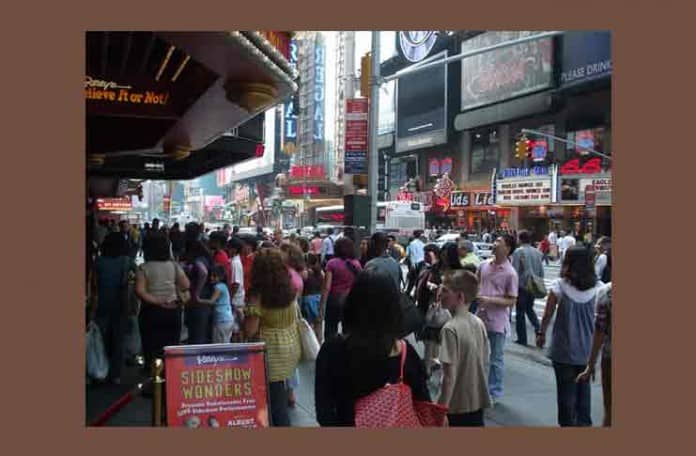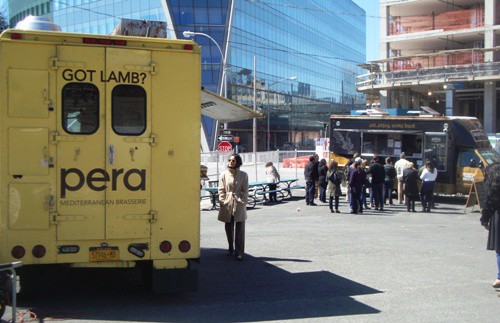 With all the difficulties food trucks are running into, from police harassment to oppressive regulations to difficulties with other vendors, two food truck lots are providing vendors with a safe, new outlet to serve customers.
We recently stopped by the World Financial Center (WFC) Food Truck Court and the Long Island City (LIC) Food Truck Lot to check them out.
The Lot on 30th St that was quite popular last year was never intended to last for more than one season, and is gone.
The WFC Food Truck Court is in a dead end on N. End Ave just west of 4 WFC.  It's a beautiful setting right by the water.  There are plenty of places to sit outside by the water when the weather's nice.  When it's not, the Winter Garden is one of the most stunning public spaces in the city, and a perfect place to eat lunch indoors.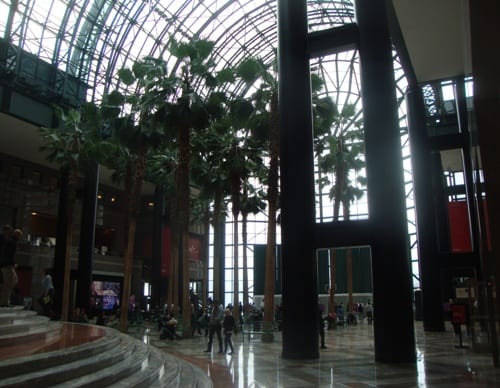 There are plenty of high-end restaurant options in the area, but not a lot of choices for the 99%, so Brookfield Properties, who manage the site, worked with the NYC Food Truck Association to bring in 4 food trucks per day from 11am-3pm.  It was so popular, they added a 5th truck to help reduce the lines.
It's a bit out of the way if you don't live or work in the area, but there are so many people working in the immediate vicinity, as well as residents and tourists, the WFC Food Truck Court is an unqualified success.
Several vendors told me the WFC Food Truck Court is their best day of the week for business…and you don't have to worry about getting a parking ticket or being told to leave.
Heading out to Queens, the LIC Food Truck Lot is basically a parking lot at 43-29 Crescent St with 2-3 food trucks per day that's a block from Citibank's LIC office tower.  I took the N/Q train to Queensboro Plaza (only 1 stop into Queens) and walked about 4 blocks through a mainly industrial area.
It's not the nicest looking area, but seemed safe during the day.  Of course, the lot wasn't designed for people coming by train, it was created to serve Citibank employees and another office building on an adjacent block.
There are 3 picnic tables that you can sit at to eat, but a lot of people seemed to take the food back to their office. Maybe when it's a little warmer, more people will eat outside.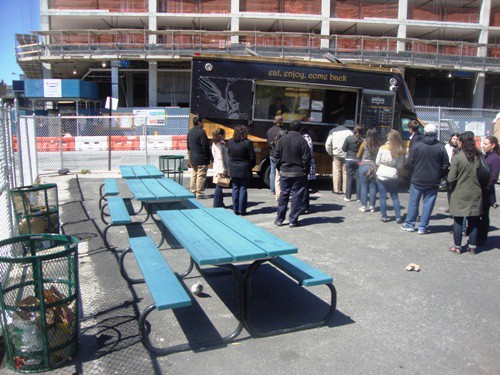 One thing the LIC Food Truck Lot has that nobody else has is the Pera Turkish Taco truck.  We used to enjoy them at the former Tavern on the Green space that was a food truck court last season.
The woman in the Pera truck told me they might be doing some events and festivals, but they have no plans to come into Manhattan.  For now Pera only intends to be at the LIC Food truck Lot twice a week, currently Tuesdays and Fridays.
While both of these food truck lots are located somewhat on the outskirts, there are enough people working nearby to make them worthwhile for the vendors.  As I said, it's a safe place to serve lunch where the vendors don't have to worry about harassment from the police or from other vendors.
As we've pointed out in the past, food truck lots are very popular in LA, SF and other places, especially for dinner, where there can be anywhere from 6-12 food trucks to choose from.
Kudos to David Weber and the NYC Food Truck Association for developing these safe havens in conjunction with Brookfield Properties (WFC) and Rockrose Development (LIC).  We would love to see more of them, and I'm sure the vendors would too.
One or two food truck lots where people can get dinner would be awesome.