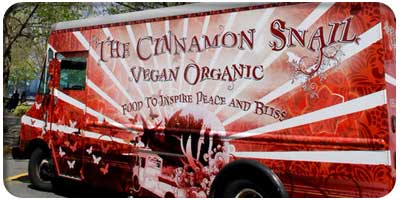 A few days ago, we received an email from Adam Sobel, chef/owner of The Cinnamon Snail.  He wanted to let us know they will be returning to NYC next Monday, March 26th.
And with the recent ordinances passed by Hoboken, The Cinnamon Snail will be vending full time in NYC this year.
Click through to get a preview of 2 new dishes Adam will be serving this year, as well as the areas he expects to serve.
From Adam's email:
"We are debuting two new menu items for the spring:
Ancho chili seitan burger with beer simmered onions and garlic, arugula, piri piri pepper sauce, and horseradish cream on grilled herb focaccia.
Smoked Portabello mushroom Carpaccio with fried caper berries, caramelized onions,  truffled kalamata olive tapenade,  and arugula on grilled herb focaccia."
On Monday, March 26th,  The Cinnamon Snail will be in the Flatiron District.  They will also be serving FiDi, Midtown, the LES, Williamsburg, and other areas of Manhattan and Brooklyn on a regular basis.
Don't fret Jersey. They will continue to serve at weekly events in Jersey City and Red Bank NJ too.
You can follow The Cinnamon Snail on twitter @VeganLunchTruck, on our Mobile Munchies twitter feed, or on facebook at www.facebook.com/theCinnamonSnail