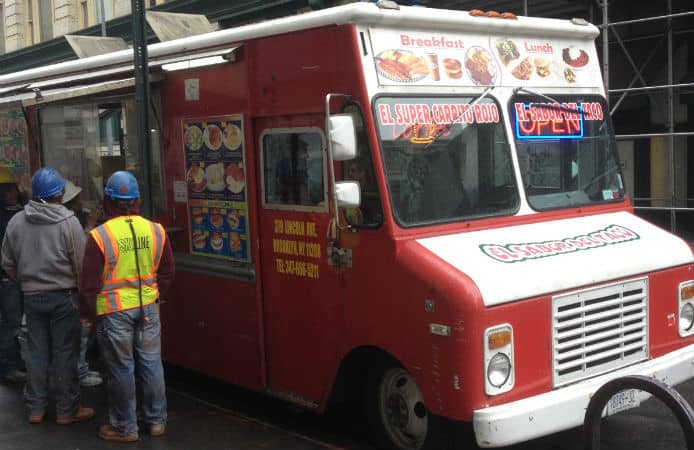 Food trucks in New York City have been on the rise for the past few years, and in some respects have gotten some commentary that puts them in a 'hipster' category for the sake of derision. Yet for those fully aware of how and why food trucks became so big nationwide, this designation seems silly.
Especially when you're dealing with food trucks in the middle of arguably the most diverse city on the globe and their main focus, which is serving good food to hard-working people.
So when I stumbled across El Super Carrito Rojo, it was a chance to get back into just why food trucks exist.
El Super Carrito Rojo, or El Carrito Rojo, is straight-forward Mexican food with a great deal of substance. You know a truck is not going to disappoint you when the line to order is chock full of hungry construction workers willing to stand in the drizzle for 10 minutes or more. But once it's your turn to order, be mindful that the line will grow behind you.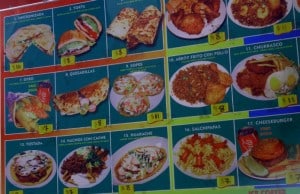 The truck is tucked away on West 19th off of the Avenue Of The Americas within the Chelsea neighborhood. I had arrived at the beginning of the lunch hour, so I took a moment to look over what they had to offer. One thing that is definitely in play with El Super Carrito Rojo is the variety of menu options, but I decided to go with the tacos – one beef and one chicken, each costing three dollars. I also added an empenada for another 2 bucks and an Ecudaorian soda called Tropical. (Pro tip: they've also got Inca Cola as well.)
The wait time for my food was not too long, and it gave me time to check out the orders from other folks. The menu boasts items that you're accustomed to seeing like tacos and quesadillas, but they also have other great dishes like salchipapas (sausage and fries), huaraches, and massive tortas. They even offer cheeseburgers and gyros. The average cost of these other menu items run from $3 to $9 dollars.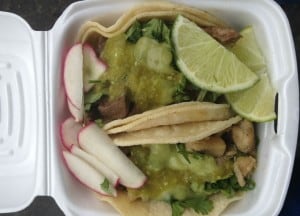 I got my order and proceeded to find a spot where I could sit and savor the food. If you're used to skimpy tacos because of fast food joints, be prepared to get rid of that idea with the tacos from El Super Carrito Rojo. The soft tacos were resplendent with freshly sliced radish and red onion as garnish. They worked very well with the slices of lime on the side. Both tacos were draped with a viscous green salsa that had a tang that brought out the savory taste of the meats.
The chicken taco had a bold taste thanks to the cilantro, and the beef taco was robust to the point of overflowing despite the two tortillas holding everything in. And it was nicely cooked well done on top of that. The empenada was light, flaky with a decent taste. All three items made for a very filling meal; I suspect if I had another one like I originally planned, I would've had to take a nap in the rain.
For a great taste of good Mexican food at a swell cost that reminds you why food truck culture is so beloved, check out El Super Carrito Rojo. The truck is stationed on West 19th Street off of Sixth Avenue Monday through Friday.