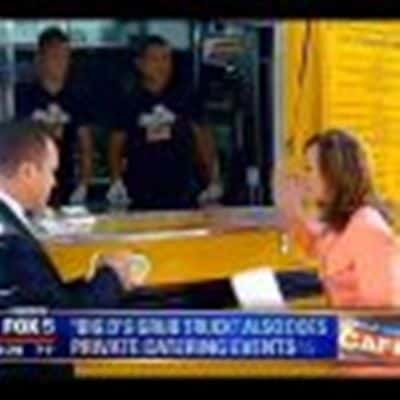 We're not big Fox watchers, but when our buddy, Big D's Grub Truck, is on, we'll make an exception.
Greg Kelly and Rosanna Scotto gave Big D's Grub Truck the Good Day Cafe treatment on Tuesday.
Click here for the link.
Hey Dennis, when's your Mom inviting you over to dinner. Afer watching the video, we'd love to be a fly on the wall for that one!
Click through for Big D's recipe for Spicy Pork.
And when you want one quick, you can find Big D's Grub Truck on twitter here or on our Mobile Munchies twitter feed.
Spicy Pork
1 lb pork shoulder, thinly sliced
1 ½ tablespoons soy sauce
5 pieces garlic, finely chopped
1 ½ tablespoons sugar
¼ cup pepper flake powder
1 heaping tablespoons red chili paste
¾ tablespoon rice wine vinegar
1 tablespoon sesame oil
Combine all ingredients well and then add meat. Mix well.
www.bigdsgrub.com
Twitter: @bigdsgrub
Facebook: www.facebook.com/bigdsgrub