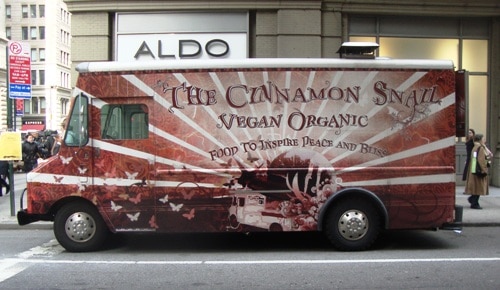 We felt for a Seitan Sandwich, and whether you're vegan or not, the Cinnamon Snail serves some of the best food in town, from a truck or otherwise. We used to be pretty closed-minded about vegan food, but Adam Sobel and his crew have opened our minds to just how good it can be.
Such quality doesn't come without a price, both in time and money. Sandwiches are in the $8-9 range, awesome desserts are around $3, and lines are often 20-30 minutes at the lunch rush. We think lunch from Cinnamon Snail is worth it, and so do lots of other people, which accounts for the lines.
After exploring their burger selections in the past, we went for the Lemongrass 5-Spice Seitan Sandwich for $9.
It's difficult to leave the truck without picking up dessert. Not only are the baked goods delicious, but they have hilarious names too. We got a Hulk Hogan Transvestite Fudgy Wudgy (that's right!) for $3.
The biggest misconception about vegan food is that it's bland and flavorless. It can be in the wrong hands, but the Cinnamon Snail punches up the flavor with their sauces and spices.
The Seitan Sandwich had Chinese 5-spice powder on it, which we always love. It also went really well with the wasabi mayonnaise.
The lemongrass was a more faint flavor, and wasn't as noticeable to us. Curried cashews added a nutty flavor, and of course, some crunch. There was even a touch of bitter from the arugula.
The baguette was lightly grilled, which firmed it up a bit on the inside, and added a touch of grilled flavor.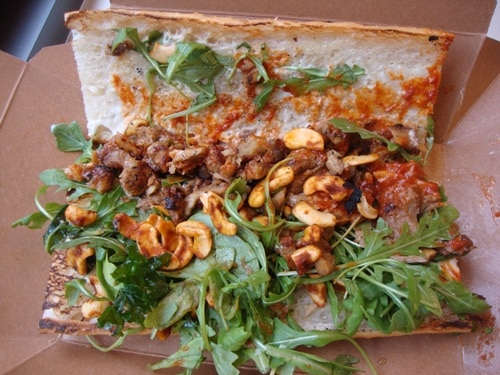 Overall the Seitan Sandwich was fairly spicy, but not overpoweringly so. It was also about 8″ long, making for a nice-sized hero.
Moving on to dessert, we have no idea what a Hulk Hogan Transvestite Fudgy Wudgy means, but it was fantastic. The HHTFW was basically a doughnut with a fudgy center, topped with chocolate crumbs and icing.
We don't know anything about vegan baking, but they obviously don't use milk or eggs. Not sure how they do it, but the doughnuts and pastries are a must-try at the Cinnamon Snail. They are denser and heavier than the doughnuts we're used to, but we're going to be dreaming about that fudgy wudgy filling tonight in our dreams.
The Cinnamon Snail has it's regular spots around town, such as 55th & Broadway, 47th & Park, 20th & 5th and a few others. You can find their exact location every day on Twitter here or on our Mobile Munchies Twitter feed.
Even if you've never had vegan food, don't let that dissuade you. Open your mind, and your mouth will be happy.